Cougar Motorsport Announces 8th Edition of Himalayan Dash
The will to taste adventure is in every one of us, but often our busy life makes it difficult to indulge in it. Now, Cougar Motorsport is giving you the opportunity to go on a thrilling Trans-Himalayan self-driving expedition. This 8th edition of Himalayan Dash will be held from 31st August 2017 to 10th September 2017.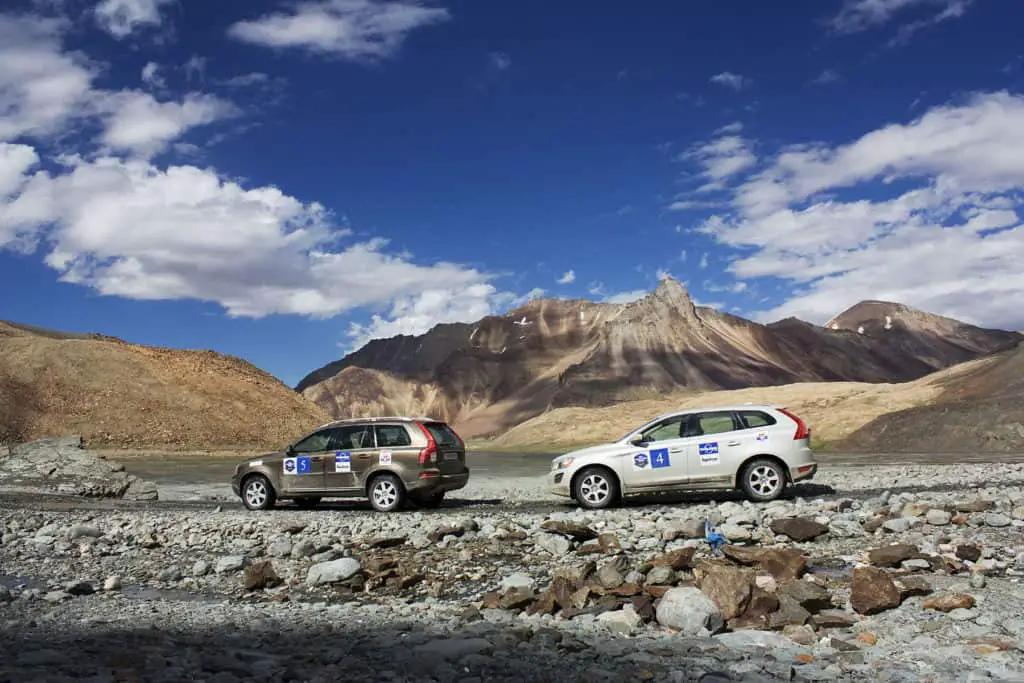 The convoy of participants will start from Shimla and pass through the beautiful Spiti Valley before culminating at Ladakh plains. The route map of the Himalayan Dash 2017 covers Sangla, Kaza, Jispa, Sarchu, Pangong Tso, Nubra and Leh. All these above-mentioned locations offer some of the best picturesque landscapes in the country. Adding to the beauty is the thrill of driving on some of the highest motorable mountain roads in the world, deep gorges of Bhaga, cold desert, chandra and Indus River.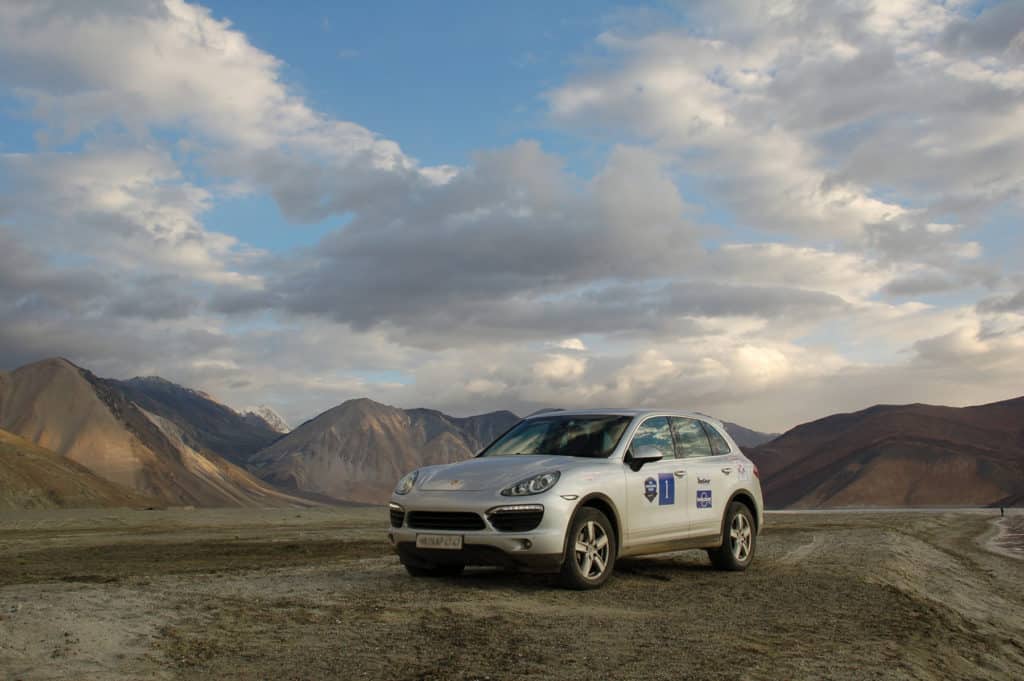 Beginning the journey from Shimla, the participants will reach Sangla after passing through parts of the old Hindustan-Tibet road. Thereafter, the drivers will proceed towards Kaza in Spiti Valley, known for the Sakya Tangyud Monastery and its colourful festivals. The next destination after that will be Jispa, and Sarchu after that. Sarchu lies after Baralacha La pass and Surajtal Lake. And finally, the drivers will reach Leh and climb up the Gatta Loops, which is a series of 21 hairpin corners carved on a mountain. The participants will spend a day at Leh and soak in the rich culture of the area. Next day, they will move across Chang La Pass to Pangong Tso Lake, a beautiful saline water lake on the Line of Control between India & China. The adventure continues when they travel to Hundar in Nubra Valley that lies just south of Siachen glacier. The final leg of the adventure will be from Hundar to Leh, across Khardung La Pass, which was once a highest motorable road in the world.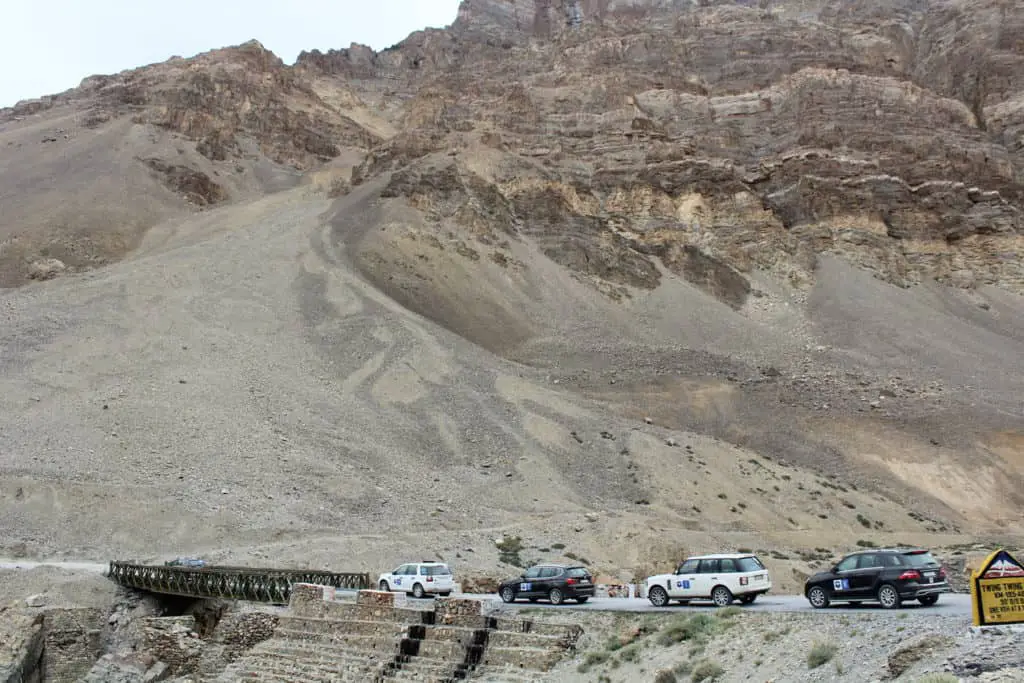 The previous Himalayan Dash events saw professionals from all walks of life taking part. The weapon choice were some of the premium cars and SUVs ranging from Range Rover, Mercedes and Audi to Volvo, Mitsubishi and Toyota. An adventure like this gives both people and their cars a break from city life. The adventure doesn't mean that you have to sacrifice luxury because the organizers have arranged for night stops at some of the best boarding and lodging available en route including The Oberoi Wildflower Hall (Asia's 5th best resort) in Shimla, Banjara Camps in Sangla, Grand Dewachen in Kaza, Hotel Ibex Jispa, Goldrop Campsite in Sarchu, The Grand Dragon Ladakh in Leh, Martesemik Camp in Pangong Tso and Royal Camp in Hundar.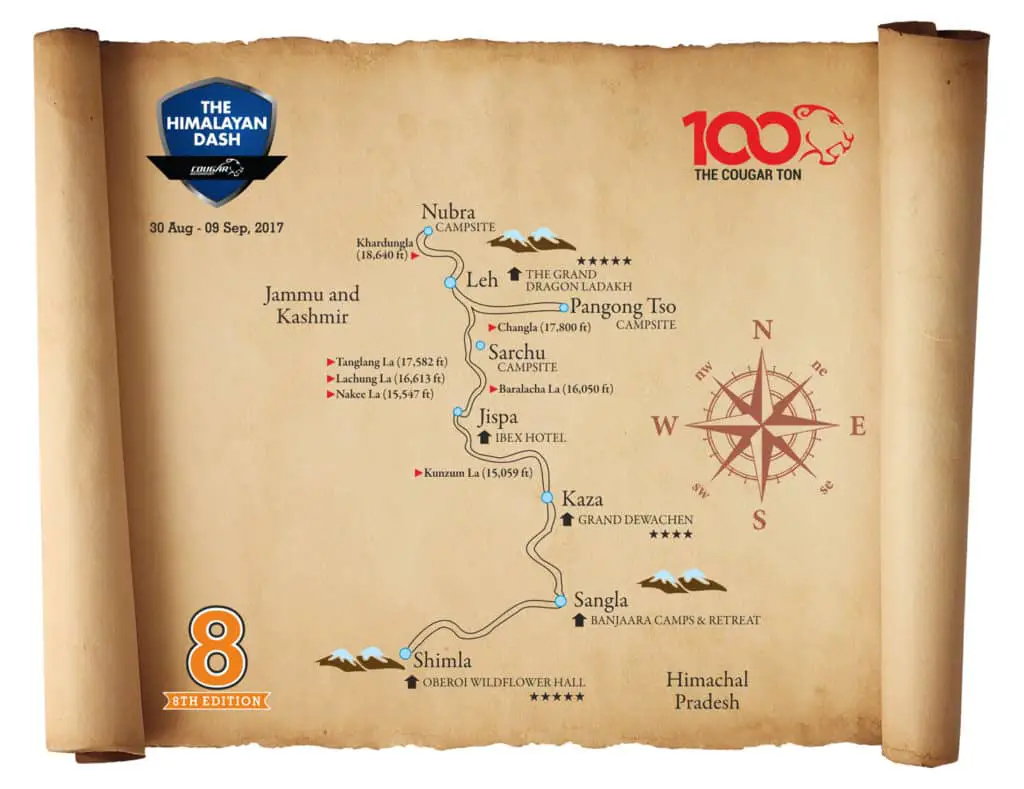 Cougar Motorsport is promising to deliver a hassle-free experience for the participants. Planning an adventure like this is tough because there is so much to do like- preparing for vehicle breakdowns, hotel booking, route planing, etc. However, participants who enrol for Himalayan Dash won't have to do all that as Cougar Motorsport will take care of all the logistical challenges. The organizers are responsible for planning the route and itinerary to include the 'must see' sights, providing road books, coordination of the convoy, arranging local guidance and support from experts, service support and liaison with the local authorities for permits.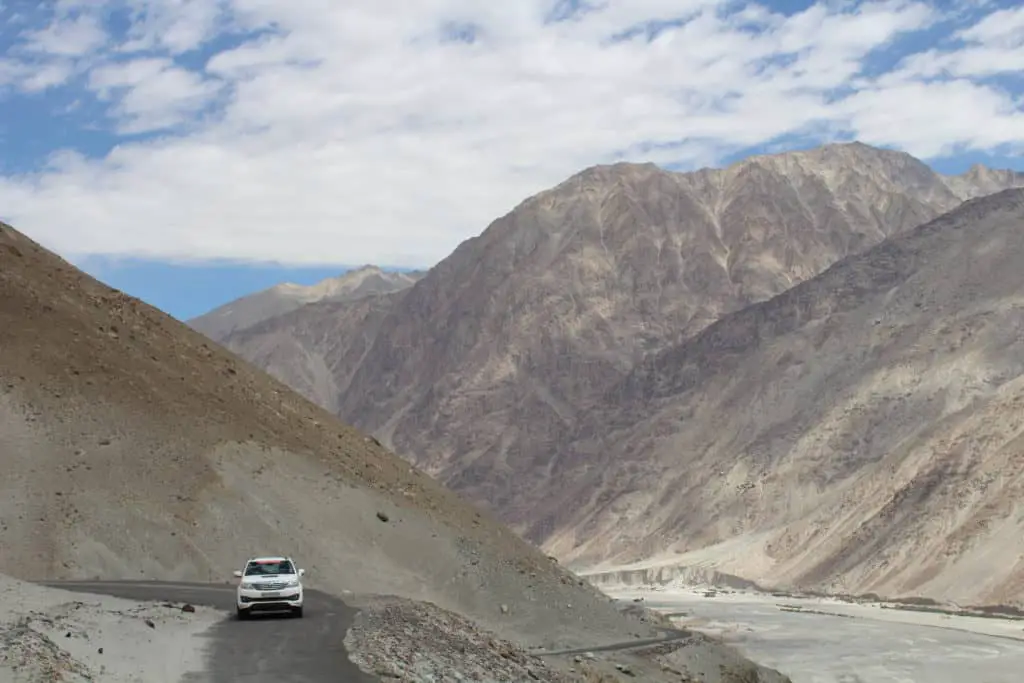 There are three flexible packages available for this edition, which will allow the participants unable to spare 11 nights to opt out after the 4th or the 8th night. The per head participation charges, excluding taxes, for Indian Nationals for The Himalayan Dash 2017 are as follows:
For 4 nights (Shimla – Kaza): INR 40,000/-
For 8 nights (Shimla – Leh ): INR 75,000/-
For 11 nights (Shimla – Leh +Hundar + Pangong Tso): INR 95,000/-
Any person holding a valid driving license/permit recognised in India may register for The Himalayan Dash 2017. Any four-wheeled vehicle, with either a 2 wheel drive or 4 wheel drive capability, can be driven. A vehicle with a high ground clearance, reliable mechanical systems, good brake, tyre and battery condition is recommended. All vehicles must have a private registration and comply with the legal requirements of cars used on public roads in India. A Letter of Authority for the use of the vehicle must be produced from the owner of the vehicle in case the owner is not a member of the crew. It is compulsory for the vehicle to have a valid comprehensive insurance coverage policy. The bookings are open for a maximum of 15 vehicles. For further details, you can visit www.cougarmotorsport.in.
Siddharth has always been passionate about Cars and Bikes. He was the kind of kid that always had the latest Auto magazine in his school bag. He had this dream- to become a professional racecar driver. Finally, in 2012 he found himself racing as a rookie driver in the Polo R Cup national racing championship. Over time he had to readjust the sail and get into automotive journalism to continue enjoying machines on wheels.
Latest posts by Siddharth Sharma (see all)