Tyre upsizing is a good way to enhance the performance and looks of your vehicle. But installing too big tyres on your car can sometimes negatively affect the handling. Tyre upsizing also results in the speedometer error. As a general rule, the diameter variation between the two tyre size should be under 3%. We have built this easy to use tyre upsize calculator for you, just enter the size of your OEM tyre and the tyre size you want to upgrade to:


How to Read Tyre Size?
The tyre size, load rating and speed rating in mentioned on the sidewall of the tyre. Example: 185/65R15 88T. Let's see what these markings stand for:
1) Tyre Width: The first three numbers here represent tyre width in millimetres. In the above example, tyre width is 185mm.
2) Aspect Ratio/Profile: This number is used to gauge if the tyre will be high profile of low profile (height of sidewall). It is represented by two digit number after the slash mark. This number is the ratio of height of tyre's cross-section to its width. In the above example, the tyre profile/height will be equal to 65% of 185 (tyre width).
3) Type of Tyre: There are 3 types of tyre construction: Bias Belt, Diagnol cross-ply, and Radial. The "R" letter here stands for radial tyre.
4) Rim Diameter: The two-digit number after this represents the diameter of the rim on which this tyre will be mounted. In above example, rim diameter is 15 inches.
5) Load Index: The next two-digit number after space tells the load rating on the tyre.
6) Speed Rating: The Speed rating of the tyre is represented by the letter at the end. The speed rating of the tyre should always be more than the top speed capability of the car. In the example, the speed rating is represented by "T".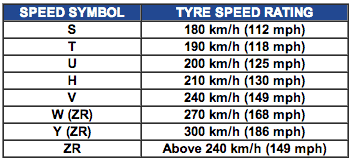 Play the Video Below to Learn How to Read Tyre Markings
Common Tyre Sizes Available in India
12 Inch Tyre
13 Inch Tyres
145/80R12
145/80R13
155/65R13
155/70R13
155/80R13
165/65R13
175/70R13
185/70R13
14 Inch Tyres
15 Inch Tyres
155/65R14
165/65R14
165/70R14
165/80R14
175/65R14
175/70R14
185 R14
185/60R14
185/65R14
185/70R14
195/60R14
195/70R14
175/65R15
185/60R15
185/65R15
195/60R15
195/65R15
205/60R15
205/65R15
215/70R15
235/75 R15
31X10.50R15
16 Inch Tyres
17 Inch Tyres
195/55R16
195/60 R16
205/50 ZR16
205/55R16
205/60R16
215/55R16
215/60R16
215/65 R16
215/65R16
225/50ZR16
225/55R16
225/60 R16
235/60R16
235/70 R16
245/70 R16
205/45ZR17
215/45R17
215/50ZR17
215/55R17
215/60R17
225/45ZR17
225/50 R17
225/50ZR17
225/55 R17
225/55R17
225/65R17
235/55R17
235/60 R17
235/65 R17
235/65R17
245/45R17
255/60 R17
265/65 R17
18 Inch Tyres
19 Inch Tyres
225/40ZR18
235/40R18
235/45R18
235/60R18
245/40R18
245/40ZR18
245/45R18
245/45R18
245/50R18
255/45R18
255/55R18
255/55R18
255/55R18
265/60R18
285/60R18
245/40R19
245/45R19
245/45R19
255/50R19
255/50R19
275/35R19
20 Inch Tyres
21 Inch Tyres
275/45R20
265/40R21
275/30R21
275/35R21
285/30R21
285/35R21
Common Tyre size available in India for Upsizing
How is Tyre Upsizing Calculated?
Diameter of two tyre size is compared to each other. The size variation between them needs to be under 3%. Tyre diameter is calculated by adding rim size with (tyre sidewall height x 2).
What are the Benefits of Tyre Upsizing?
Tyre upsizing can be great for enhancing looks and road traction of your vehicle.
What are the disadvantages of Upsizing?
Some of the drawback of tyre upsizing can be increased tramlining effect, weighted steering wheel, decreased fuel efficiency, and more road noise. Therefore, use this tool to choose the right tyre size.