Top Tyre Brands and Companies in India
Tyre industry in India is picking up rapidly. Today you can get every kind of tyre in India, ranging from an economical tyre for a scooter or tyre for your Lamborghini. Some tyre brands have a good foothold in the Indian market. Let's look at some of these well-know Tyre brands:
1) MRF TYRES:
Madras Rubber Factory is also known as MRF. MRF is the largest manufacturer of tyres in India and belongs to the tyre rubber products industry. It has its headquarters located in Chennai and has its services worldwide. It is an Indian multinational company standing fourteen in terms of manufacturing tyres in the world. It produces rubber products like tyres, conveyor belts, tubes and many more.
The founder of MRF tyres is K.M Mammem Mappillai who started with a toy balloon manufacturing company in 1946 at Chennai and also in 1952 the company entered into the manufacturing of thread rubber. The company got registered as a private company in the year 1960. Later on, it went into partnership activity with a US-based company called Mansfield Tyre & Rubber Company.
The MRF Tyres Company has a wide range of products which it produces like manufacturing tyres for cars, buses, trucks, two-wheelers, tractors and other vehicles. It also produces conveyor belts, paints and Pretreads. MRF Company also manufactures cricket products for cricketers like cricket bats, gloves, pads and others. MRF tyres are currently sponsoring players like Virat Kohli, AB de Villiers, and others
The market performance of MRF tyres is considerably good in India and also across many nations. It has been the market leader for 32 years in India and ranked in the top 20 global tyre manufacturers. Yet, the company is going through hard faces now because of the high rise in prices in the economy. The revenue generated until 2017 is US$ 3.3 billion.
Learn how to rotate tyres for even wear
2) APOLLO TYRES:
Apollo Tyres is regarded as one of the most successful and largest tyre selling companies in India and as well as globally. The Indian based multinational company is said to be the world's seventh-largest tyre manufacturer. The headquarters of the company is situated in Haryana, Gurgaon and has a huge network around the whole country with nearly 5000 dealerships over the country and also worldwide. The company mainly focuses on the production of truck tyres and recently launched its service for the two-wheeler tyre segment in 2016
The company led its foundation stone as a Public Limited Company in Perambra, Thrissur, and Kerala in 1972 by setting up its first manufacturing unit there and later gained the certificate of Commencement of Business. Further, it opened its second plant in Limda, Gujrat in 1977. Later in 1995, it acquired the Premier Tyres Limited- PTL and led to the launch of its third plant in Kalamassery, Kerala.
Apollo Tyres made a tie-up bond with the Netherlands-based tyre maker Vredestein Banden B.V. (VBBV) in 2008 which led to its market expansion around Europe. Also in 2013, the company disposed of the Dunlop brand in Africa along with most of the South African operation in a sale to Sumitomo Rubber Industries of Japan.
Currently, Apollo has two tyre factories in Europe, one in the Netherlands and the other in Hungary. In 2016, the company signed an MoU with the Government of Andhra Pradesh to set up a new factory there for the manufacturing of two-wheeler tyres and pick-up trucks. The company gets 69% of its revenues from India, 26% from Europe and the rest 5% from other units. According to 2018 reports, the company profited with a whopping amount of US$ 2.4 billion.
Learn how to increase tyre life
3) JK TYRES:
JK Tyre & Industries Limited is one of the leading tyre manufacturers in India and also amongst the top 25 manufacturers in the world with a wide range of products who aim to disparate the business segments in the automobile industry. JK Tyre is the only tyre manufacturer in India to be included in the list of Superbrand in 2017, the sixth time the honor has been granted to the company. JK Tyres offers tyres for the entire range of passenger and commercial vehicles, starting from a 3 kg two-wheeler tyre to a 3.5 ton OTR tyre.
In 1951, the company was incorporated as a private limited company in West Bengal. Until 1970, the company was engaged in the managing agency business. Further, the company decided to undertake manufacturing activities and obtained a letter of intent in February 1972 for the manufacturing of automobile tyres and tubes.
The power pillar who is regarded as the architect of the JK Foundation is Lala Juggilal Singhania and later was carried forward by Lala Kamlapat Singhania. The company was converted into a public limited company on 1st April 1974. The manufacturing project was promoted by Straw Products Ltd and J.K. Synthetics Ltd. In 2007, JK Industries Limited changed its name from "JK Industries Ltd" to "JK Tyre & Industries Limited.
The company has a global network in 100 countries across six continents, with production support from twelve plants – nine in India and three in Mexico. Currently, the capacity across all its plants is about 35 million tyres per annum. In April 2016, JK Tyre acquired Cavendish India Limited from Birla Tyres.JK Tyre & Industries Limited has a widespread network of 4000 dealers and over 500 dedicated Brand shops called Steel Wheels and Xpress Wheels providing complete solutions to its customers. The company made a recent income of US$ 9.3 billion in 2018 thus creating a huge market.
4) TVS SRI CHAKRA:
TVS Srichakra is a part of TVS Group one of the leading automobile groups. The company got incorporated in 1982 as Srichakra Tyres (STL) and was promoted by R Naresh T V Sundram Iyengar & Sons and Sundaram Industries. The company manufactures two-wheeler, three-wheeler, and Off-highway tyres. It also manufactures ultra-light truck, industrial and OTR tyres.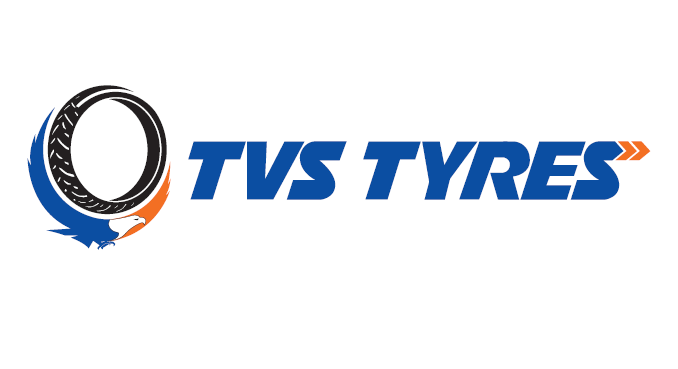 The company has a joint collaboration with DuPont and Cherry. It exports to the US and the European market. In 1995-96 the company expanded its production capacity to 33 lacs per annum. Technology for modernization of certain sections of its plant is imported from Schiesser Rubber Technology Switzerland. Some of the major clients of STL are Hero Honda Bajaj Auto TVS Suzuki etc.
TVS Srichakra tends to be a prominent OEM supplier to not just TVS Motors, but to the most leading brands. The domestic after-market supply of the company is held by a strong network of over 2400 dealers and 34 depots. TVS Srichakra Limited exports to over 70 countries across the world. Through export, we continue expanding our presence in the USA, Europe, South America, Africa and Australia. According to the reports of 2018, the company successfully made a net income of about US$ 2.4 billion.
5) CEAT TYRES:
Cavi Electrici e Affini Torino also known as CEAT is one of the leading manufacturing tyre company and has its widespread in the global markets. CEAT home country is Italy and has its headquarters at Worli, Mumbai, India.
CEAT was founded in the year 1924 by Virginio Bruni Tedeschi in Turin, Italy. The company got incorporated in the year 1958 as CEAT tyres in Mumbai. It got collaborated with Tata Groups, initially. It also merged with Deccan Fibre Glass Limited in 1981. Later, in the year 1982, Rama Prasad Goenka Group also known as the RPG group acquired the company. The company's chairman and the Managing Director are Harsh Goenka and Anant Goenka. CEAT company also has a joint venture with Asia Motorworks and Kelani tyres. The joint venture is named as CEAT Kelani in the year 1999 to manufacture and market them in Sri Lanka.
CEAT provides a wide range of tyres for various types of vehicles like passenger cars, light commercial vehicles, motorcycles and scooters, cycles, SUV and many more. It exports these products across countries like America, Australia, Africa and Asia.
The company has a revenue of US $890 million for the financial year 2017-2018 with a net income of US $39 million in the same financial year. CEAT tyres also sponsor bats to cricketers like Rohit Sharma, Mayank Agarwal and many more. Learn what is Tyre Retreading
6) MICHELIN TYRES:
Michelin is a French-based manufacturing tyre company. It is a French multinational auto and truck parts manufacturing company. It stands in the second position globally in terms of manufacturing tyres after Bridgestone. The company has its headquarters located in France and owns many brands like SASCAR, Uni- Royal Goodrich tire company and many more.
Michelin was founded in the year 1889 by two brothers named Edouard Michelin and Andre Michelin who started with a rubber factory in France. The company got his recognition on 28th May 1889. Later in the 1920s and 1930s, many rubber factories were planted by both the brothers in Vietnam. They made many innovations which include the radial tyre, the removable tyre, and the pneurail tyre.
The products offered by the company are car tyres, train tyres, road bicycle tyres, radial tyres and many more. It has been supplying tyres to the Audi, Ford, Toyota, Volkswagen factory teams. The company has also manufactured Formula one tyres. Along with the products the company also offers travel assistance services.
The revenue of the company is 2202.8 crores EUR in the year 2018. The net income of the company includes 166 crores EUR.
7) BRIDGESTONE TYRES:
Bridgestone is the world's leading manufacturing tyre company. It stands in the first position globally followed by Michelin. It is a Japan-based multinational auto and truck parts manufacturing company. "Ishibashi" is the word from which the company name has been derived which means "stone bridge" in Japanese.
The company was founded on 1st January 1931 by Shojiro Ishibashi. The Bridgestone company was formed with an amalgamation of two different companies. The first company name is Firestone Tire & Rubber Company and the second company is Bridgestone Tire Company limited. The first Bridgestone tyre was produced on 9 April 1930.
The products that the company offers are Motor vehicles tyres, Formula one tyres, sports cars and touring cars tyres and many more. Earlier the company restricted itself to tyres but now it has diversified its products. It also produces automotive components, industrial products, construction materials and more.
The performance of the company in the market includes revenue of 3.34 lakhs crores JPY and net income of 26555 crores JPY.
Thinking of increasing tyre size? Checkout tyre upsizing tool
Which is the best selling tyre brand in India?
MRF is the best selling tyres brand with Rs 15,837 crore revenue in 2018-19. Apollo tyres followed behind with Rs 12,354 crore revenue.
Which is the best selling tyre brand in the world?
Bridgestone is the best selling tyre brand in the world.
Latest posts by Siddharth Sharma
(see all)