Top 10 Motorcycle Backpacks in USA
Riding a motorcycle is a thrill like no other. Although cars are enjoyable, more safe, and reliable, bikes give you the feel of truly having the wind run against your face, the breath of fresh air when you cruise through roads and cities. However, bikes fall behind when it comes to taking luggage along with you. Sure, you can instal side paniers or mount soft luggage bags. But nothing beats a backpack when you want to travel light and still have some essentials with you.
Backpacks aren't just used to carry your notes around anymore. They've become popular fashion accessories, and a lot of men and women don them for different purposes. Motorcyclists are no exception. Backpacks for motorcyclists are not anything new, but recently, there have been some really noteworthy developments, leading to better usability, more attractive designs and a lot more luggage support, in addition to becoming more friendly to your wallet. Let's take a look at ten such high quality motorcycle backpacks, and why you need to get one in your arsenal.
OGIO Mach 5
The Mach 5 is probably one of the most sophisticated and preferred backpacks on this list, in terms of overall performance and aesthetics.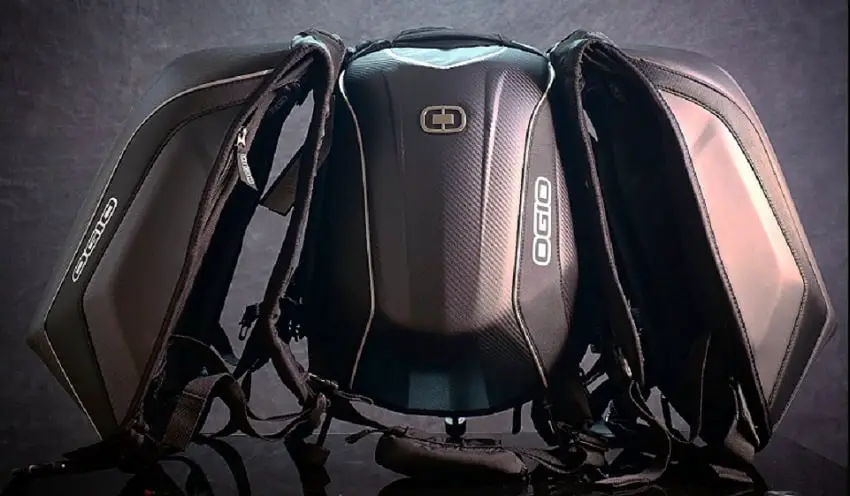 The bag is so well made that it almost looks as though it is an attachment of the body itself.
OGIO is one of the best bag manufacturers in the market, and the Mach 5 shows us why. They've built the bag to be water resistant, making it just great for nearly every kind of weather condition. The bag is also spacious enough to fit in a regular sized laptop (15 inches) and still have extra space available.
And you might think it may get heavy from all the stuff it's carrying, but the bag feels incredibly light because of its design, attaching itself to the body for easier movement. Looks, storage, and lightweight – is there anything else you need?
Seibertron 37L
Possibly the best city-use motorcycle bag to exist in the market. Seibertron's bag is lightweight, super flexible, and can store a lot of stuff for your everyday office needs. The company prides itself on producing no-frill bags, and rightly so.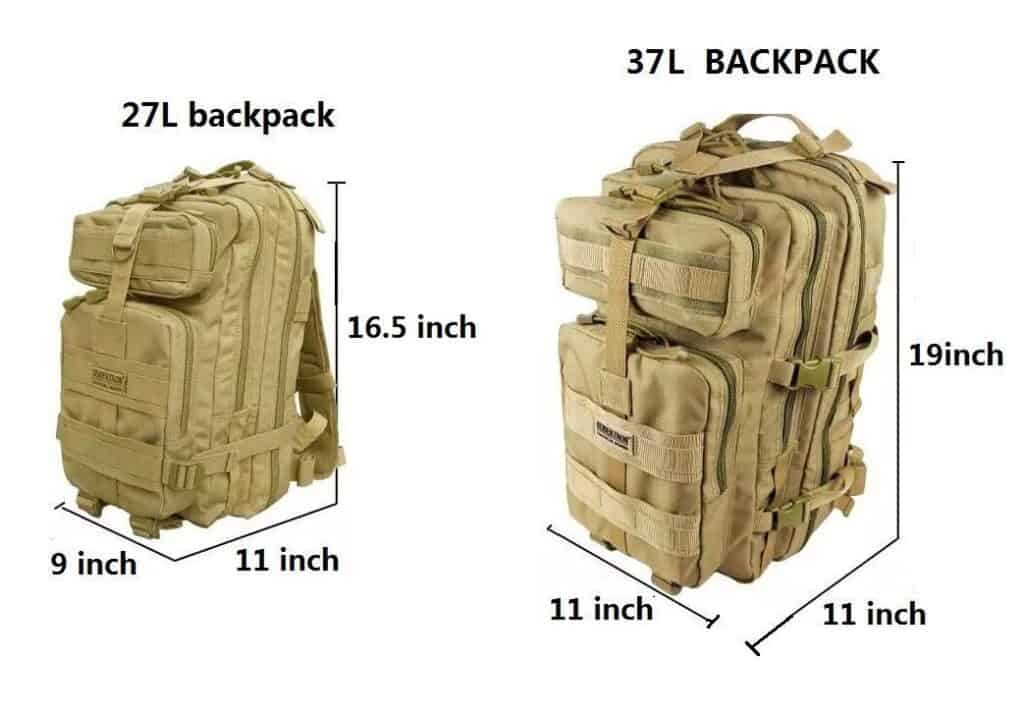 The Seibertron 37L is a great value for your money. It's not built to look stylish, it's built to be functional.
With a 900D polyester coating to protect against abrasion and rough handling, as well as prevent water from seeping into a certain extent, this bag is everything you thought you didn't need in a bag. Definitely a great choice.
Alpinestars City Hunter
Alpinestars is a brand that values safety above anything else – be it their jackets and boots, or even motorcycle backpacks. The City Hunter just proves this point.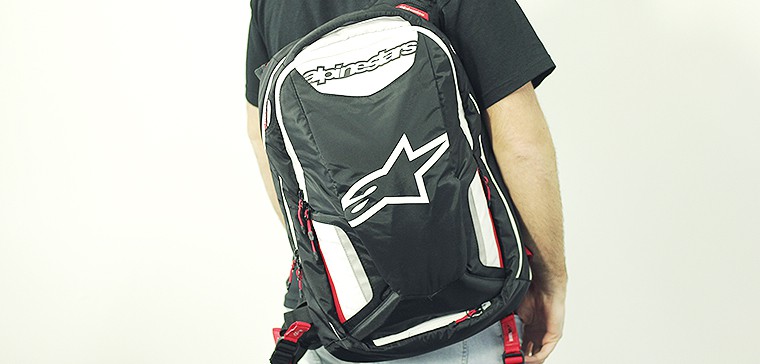 Made with 420D nylon, it ensures that no amount of rough handling and nature's downpour will have an effect on the contents of the backpack.
With a 25litre storage space and a base made to resist wear and tear, the backpack looks just like your average backpack. The materials used, however, are what make Alpinestars such a respected brand in the business. With a special fleece-lined compartment to safeguard your electricals, you simply cannot go wrong with this one.
SHOEI 2.0
In case you're new to the motorcycling world, SHOEI is a helmet manufacturer – and quite a popular one at that. The brand has a name for making nothing but the top quality products, so it's a no brainer that the SHOEI 2.0 motorcycle backpack is going to be no different.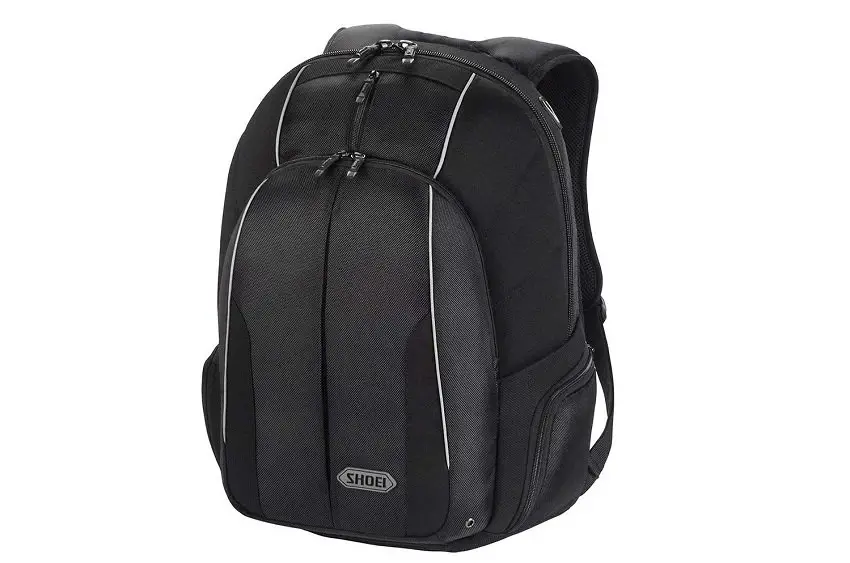 One of the first things you notice about the backpack is the number of pocket compartments it has. SHOEI believes that everything about their bags should be fully functional, be it the straps that fit on the shoulders or the separate slots for your visors and face shields.
It just goes to show you how reliable the bag is, because it knows exactly who its user is, and what they'll be needing.
Axo Commuter
Axo is a simple brand. It believes that bags should serve their purpose and serve their purpose well. So, instead of numerous zippers and compartments, there is just one single zipper housing a very large storage area. You might even try fitting a whole biker's helmet inside and still have space to spare. Storage simplified – that's all that Axo's brand, and the Axo Commuter is about.
Axo Commuter backpack comes in many funky colors patterns. So if you like bright colors and need a simple backpack then AXO is a no brainer for under $20.
OGIO Renegade RSS
We've mentioned OGIO again because you just can't get enough of it. While the Mach 5 has beastly looks and a lightweight design for an overall comfortable experience, the Renegade RSS has been designed to be more versatile with the laptop carrying workforce in mind. If you're someone who needs to be at many different places in a single day with their laptop for on-the-go work, your search ends at the Renegade RSS.
The backpack is spacious enough to hold the largest laptops in the market (which cap at 17-inches), and has special compartments for electrical equipment that support your laptop. This compartment is nicknamed the crush-proof tech vault by OGIO, implying that it is one of the safest places of your equipment. It is also designed to fit itself against your back as smoothly as possible while riding, no matter what it carries.
Mardingtop Tactical Backpacks – Molle Hiking Daypack
Mardingtop is a solid brand, and that's majorly because of people's trust in its hiking backpacks. Creating a backpack that is appropriate for both biking and hiking is something only this brand can do. Behold the 35 litre Molle Hiking Daypack – a near-perfect backpack that can hold both your laptop, as well as a 2.5-litre water bladder.
The backpack is incredibly lightweight, and consists of molle webbing to carry smaller items when you're in the mood for a hike. The webbing makes sure you don't drop items while going on your bikes. There are even added paddings on the straps and back to make sure the bag doesn't slip at any point.
Viking Moto Motorcycle Backpack
Viking is also one of the best brands in the market with solid, effectively designed backpacks. This one from Viking is famous among night riders for its reflective piping, which allows the bag to be seen at night. Made with heavy-duty material Cordura, it is one of the strongest backpacks in this list.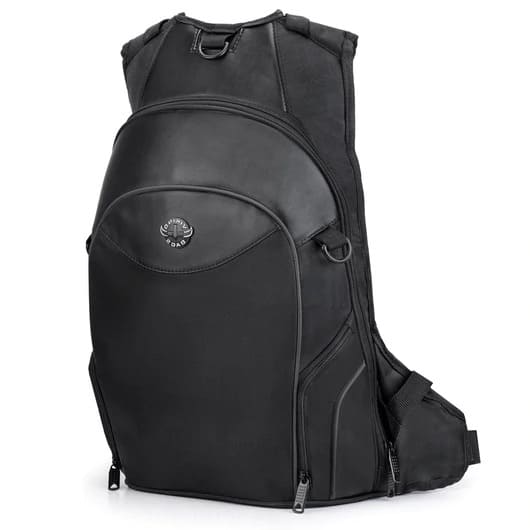 It is a slightly smaller backpack, capable of holding laptops of 15 inches or less, but it sure is sturdy, and holds its own for a long time. There is also a removable rain cover for added security, so you know this backpack has your back in every condition – literally.
Nelson Rigg Hurricane
If you are a serious tourer, then Nelson Rig Hurricane backpacks should suit you well. These backpacks comes in two size: 20 and 40 litres. USP of them is that they are fully waterproof.
Badass Motogear Motorcycle Travel Backpack
Badass Motogear does every bit of justice to its name, building backpacks that are of absolutely jaw-dropping quality, functionality, and rate. This motorcycle travel backpack comes with reflective piping as well, adjustable shoulder straps, and the cream of the crop – a detachable mesh helmet bag. There is also a fixed laptop pocket for storing your laptop safely.
Harley Davidson Men's Skull Backpack
This one is for every college student out there, or even for freshly graduated office goers. Made with Nylon and Poly-Nylon material, the bag is very durable, and has the looks to match. It is a very attractive option, considering you're someone who is into heavy metal music. There are six different pockets, with one for a laptop and another for a headphone. The bag is extremely lightweight, owing to the foam-lined pockets, and is definitely one that will go well with your sports bikes.
Closing Thoughts
Backpacks are important, regardless of what kind you use. The brands mentioned in this article by Motoring Junction are all some of the best in the industry, and no matter which one you get, you know you're getting absolutely great products, and will last you a long time, saving you a lot of time and money in the long run.
Latest posts by Siddharth Sharma
(see all)