2019 Chevrolet Corvette ZR1 Unveiled in Dubai
After spotting Corvette test mule a few months back. The mystery is now disclosed- Chevrolet has unveiled the 2019 Corvette ZR1 in Dubai. This supercar will go on sale in the international markets next year. (Read: Chevrolet says goodbye to India)
The American manufacturer says that on a racetrack, the new ZR1 is the highest-performing Vette in the nameplate's production history. Looking at the 2019 ZR1, we have no reason to doubt that claim. It has a massive wing at the rear, numerous air channelling ducts at the front, and a racecar-like stance. Read: New BMW Z4 concept unveiled
Engine & Gearbox
The track-focused supercar will pack a 6.2-litre supercharged V8 motor churning out 755 bhp of power and 969 Nm of road shredding torque. For the first time, GM has introduced an engine that gets a combined direct and port fuel injection system, as opposed to the Z06's direct injection only. Apart from increased power, flames from the exhaust is also one cool byproduct. There are two transmission options- 7-Speed manual and an 8-Speed automatic.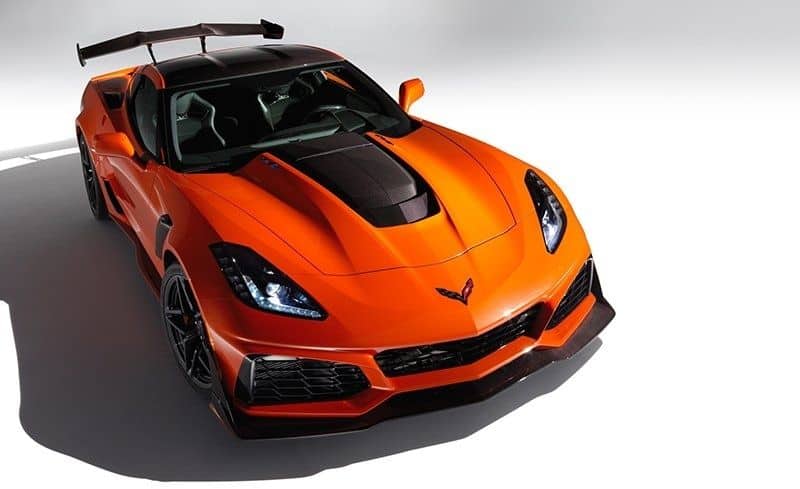 Better heat management
2019 Chevy ZR1 has a bigger Eaton supercharger compared to the Corvette ZO6's supercharger (Company is claiming 52 percent more displacement). This brings in the need of better heat management system. Therefore, the ZR1 has four new radiators and 13 heat exchangers in total. The big engine at the front resulted in increased weight on the front wheels. To counter that, the front has wider 19-inch wheels with 285/30ZR19 tyre and at the rear are the 20-inch wheels with 335/25ZR20 tyres. The tyres are the Michelin Pilot Super Sport.
Interiors
The Interiors on the Corvette ZR1 are updated with premium materials and better fit & finish. The upholstery is a mix of leather and Alcantara. Dashboard and steering wheel gets carbon fibre inserts. For track enthusiasts, there is GM's Performance Data Recorder. And during your drive to the racetrack, the Bose premium audio system will keep you entertained. The ZR1 won't be coming to India but check out its competition: Lamborghini Huracan Performante Launched in India.
Siddharth has always been passionate about Cars and Bikes. He was the kind of kid that always had the latest Auto magazine in his school bag. He had this dream- to become a professional racecar driver. Finally, in 2012 he found himself racing as a rookie driver in the Polo R Cup national racing championship. Over time he had to readjust the sail and get into automotive journalism to continue enjoying machines on wheels.
Latest posts by Siddharth Sharma (see all)