Top 10 Supercars in Dubai Police Fleet
Dubai is home to some of the most beautiful roads on the Gulf Cooperation Council (GCC), and beautiful roads attract gorgeous, ultra luxurious cars. We don't need to add that these vehicles are blazing fast too.
There are so many supercars running around Dubai that you can even find abandoned ones in the desert. The fraternity of supercars is so huge that even the police division of Dubai has its own impressive collection of these mean machines.
Dubai police supercar collection has certainly raised their overall profile among the list of elite law defenders around the globe, and rightly so. With so many fast (and extremely dangerous) cars, one can imagine how people can speed through one of the busiest tourist destinations in the world, potentially harming a lot of people in the process. The city has so much wealth that the police force believes the best way to fight speed is with speed.
Surely other countries have a few supercars in their own fleets for their own promotional purposes. But none of them compare to what the Dubai police fleet has. While they are mostly used for show and to patrol around the wealthier tourist areas, they still serve as great ambassadors of the power of the Dubai Police.
A Porsche, Ford Mustang GT, and Chevrolet Camaro SS are just the tip of the iceberg. Pair these up with Bentley Continental GT and you have one of the least interesting lineups in a whole gallery of luxury supercars. Let's walk you through ten of the most recognized supercars in the Dubai Police fleet:
Bugatti Veyron
This car doesn't need any introduction of any kind whatsoever. It is the speedster capable of breaking all your speeding records, no matter how high the bar is set. There is nothing but a sole reason why the Dubai police fleet bought a Bugatti Veyron. For a long time this car had held the record for the fastest production car in the world, and this is what was caught by the eye of the law defenders of Dubai.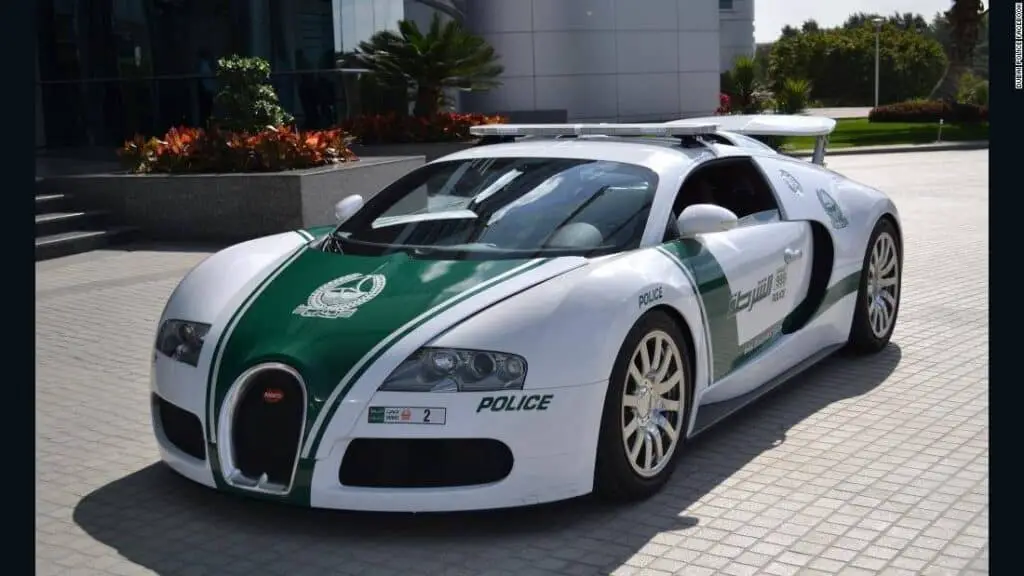 Since 2014, the Bugatti has been a proud member of the supercar family in the Dubai Police. Who would even dare to commit crime and manage a successful getaway from the clutches of a 400 Kmph devil.
Lamborghini Aventador
There's not a single person in the world who knows automobiles but hates Lamborghinis. The Italian automaker is in a league of its own, and has fans spanning across nearly every country you can imagine. The Dubai police is no different. Their fleet is spiced up with some of the biggest hits from Lamborghini.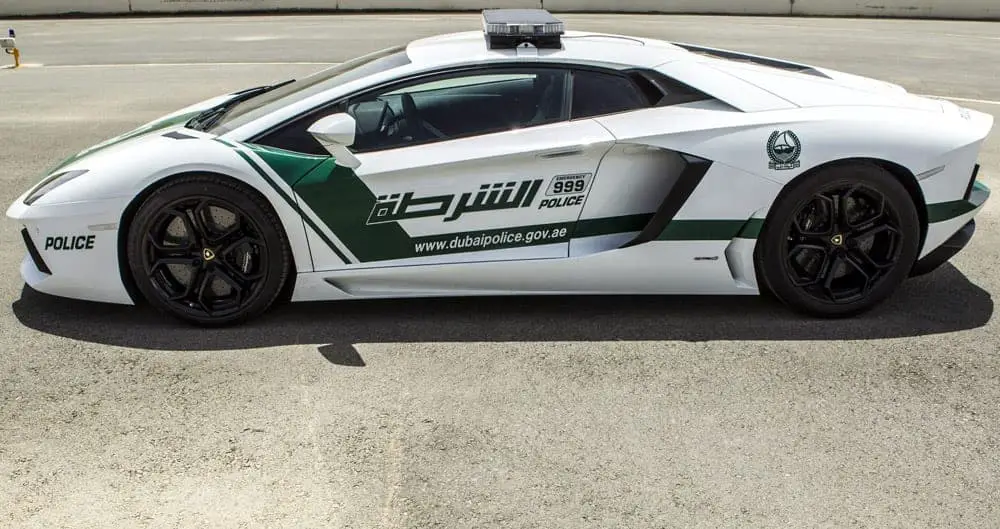 The Aventador is a child favorite from this lineup. It has a 6.5 litre V12 capable of bringing out 691 horsepower across all four wheels with the help of 7-speed transmission. It can also sprint from 0 to 100 kmph in less than 3 seconds, and easily surpasses the 350 Kmph mark. You can surely say that this is one of the most insane cars to be a part of a police fleet.
Ferrari FF
The FF from the Ferrari is the first of its kind because of the four-wheel-drive model, and a styling method like no other. The car can shoot up to a top speed of 335 kmph and even with the four-wheel-drive variant, it can accelerate from 0 to 200 kmph in just about 3.7 seconds, which makes it one of the fastest automobiles with four seats.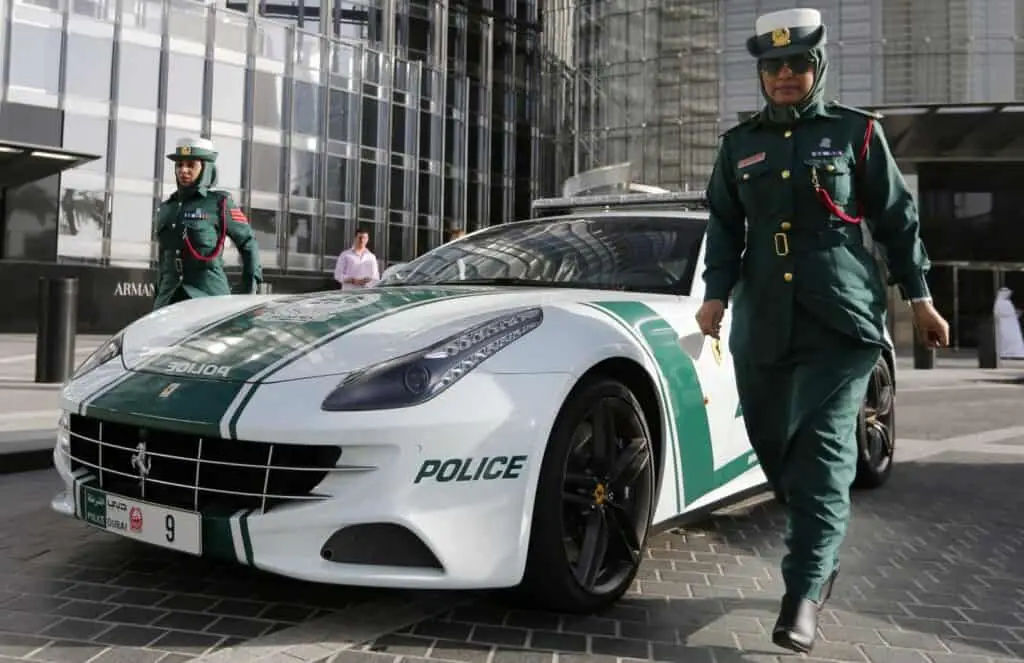 Unlike most of the other cars that are in the Dubai police fleet, this model of Ferrari is practical and also has the looks to match.
Nissan GT-R
The Nissan GT-R is one of the fastest cars in the Dubai police fleet, and is also one of the most affordable ones. Spitting a 545 horsepower through a V6 twin-turbo engine at a top speed of 315 kmph, the GT-R is a personal favourite.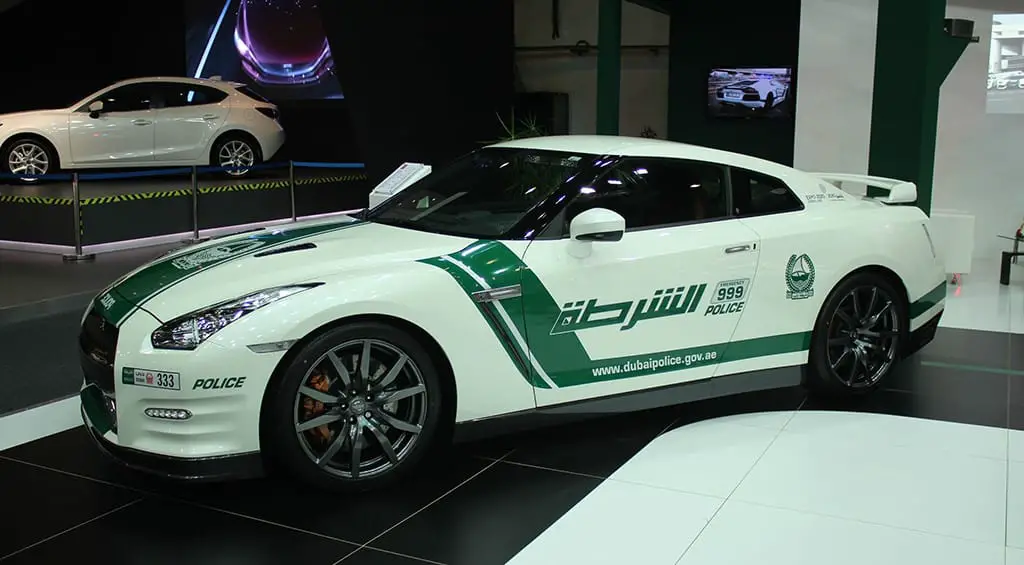 Not because of the trendy design or the superior performance, but because of the pure drive quality that not a lot of other supercars offer. This mean machine has been in the fleet since 2013.
BMW i8
The i8 made a lot of headlines when it was introduced to the world as a hybrid vehicle from none other than BMW. It was added to their collection back in the year 2015 and up until this day, it is running in top notch condition.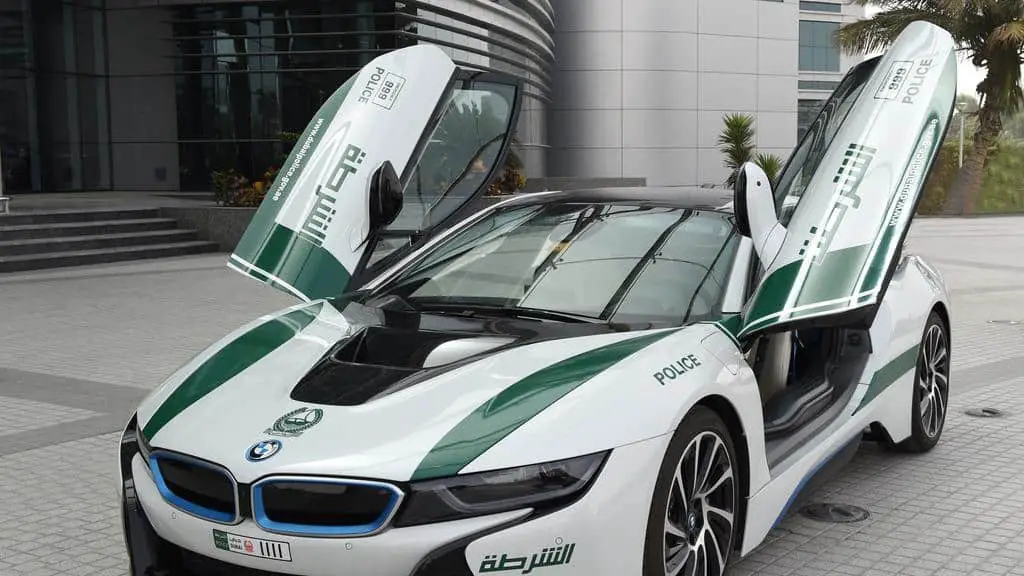 There are two electric motors mounted to the engine and these motors can generate around 357 HP, running from 0 to 100 in 4.2 seconds.
McLaren MP4 12C
During the recent years, we've all seen the rise that McLaren has been giving out record sales in the supercar division which gained its popularity by a large margin mostly because of the arrival of MP4-12C, or the McLaren 12C for short.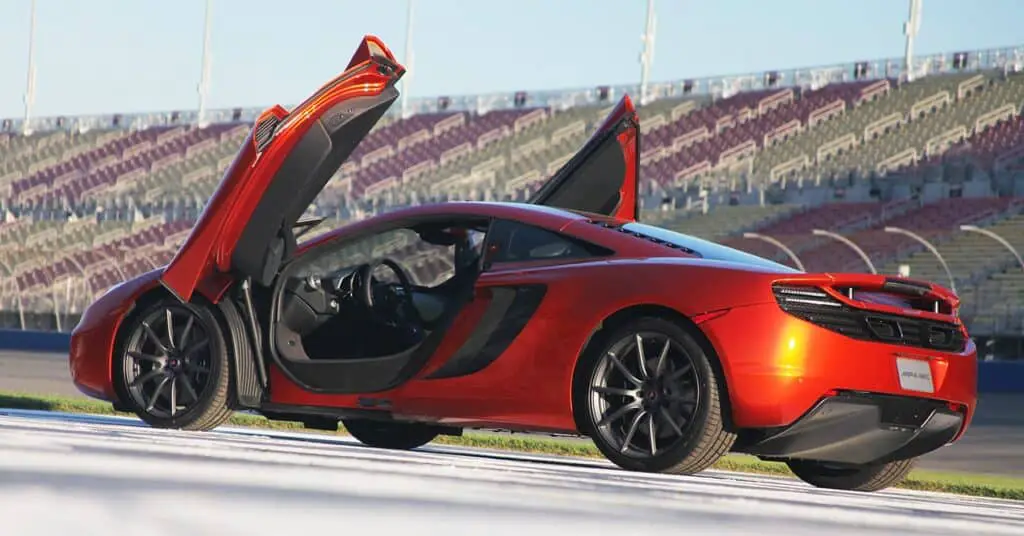 It was based on the company's first road car since 1998. The McLaren 12C had recorded the second fastest power lap time in 2011. It was brought into Dubai's police supercar family in December 2013, and having a ferocious V8 churning out 604 horsepower and a top speed of 320 kmph, we can see why.
Aston Martin One-77
You'd be a bit crazy to think of Dubai's police fleet and not consider it having the Aston Martin. The British automaker is one of the top companies in the world not only not only in terms of making high performance vehicles, but also making them look as elegant as possible.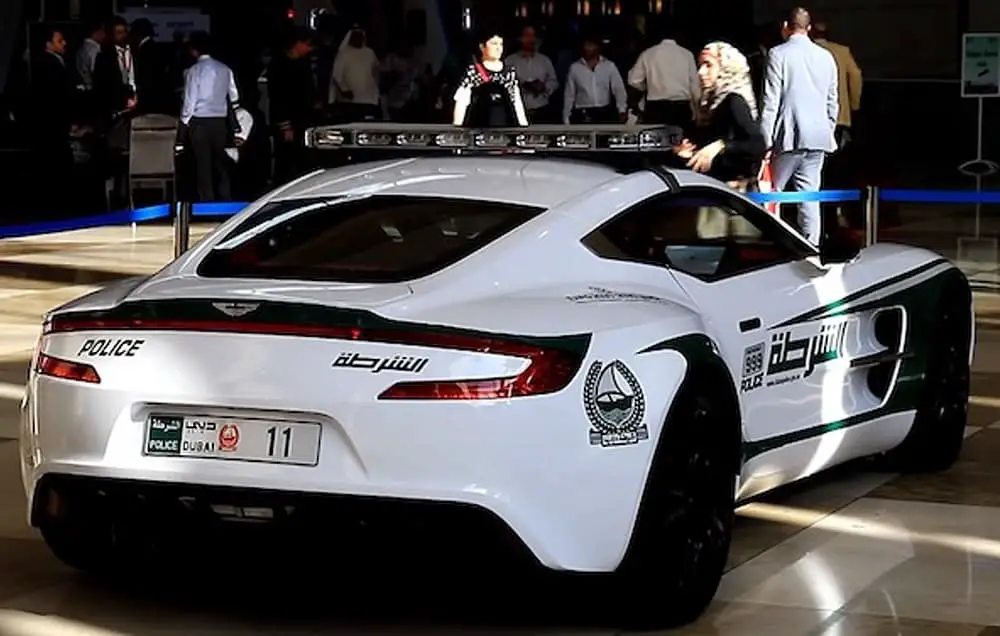 The One-77 fits perfectly into the Dubai police department's family of supercars because it was an exclusive car which was limited to a production of just 77 units. Not surprisingly, it produces 750 Bhp from the 7.3-litre V12 engine, maxing out at 350 kmph. If looks could kill, this one would definitely be on top of the hit list.
Tesla Cybertruck
In 2019, Dubai Police major general announced that Tesla Cybertruck will join their police force in 2020. Cybertruck will be used by police to patrol popular tourist spots in Dubai. However, Cybertruck deliveries has further delayed.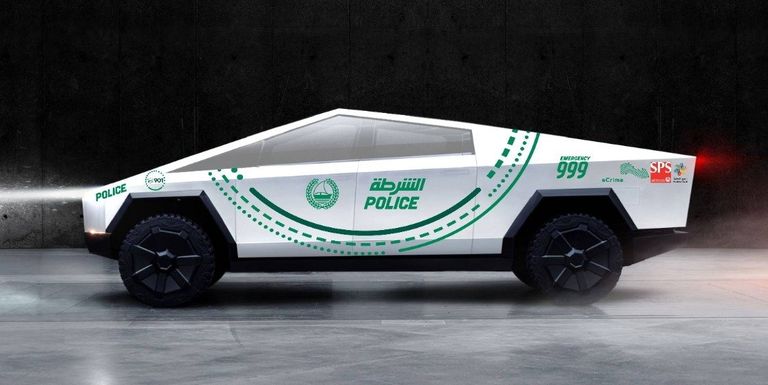 Tesla Cybertruck looks something out of another planet. Moon roverish looks is quite polarising for sure. This electric truck promises utility of a truck with performance of a sports car. And it's tough as nails.
Mercedes-Benz SLS AMG
No car company comes even close to perfecting the luxury-sport combination of Mercedes. The SLS AMG is no different. This supercar features a long bonnet with gull wing doors – not a common sight anymore, and is precisely why the mighty Dubai police use it.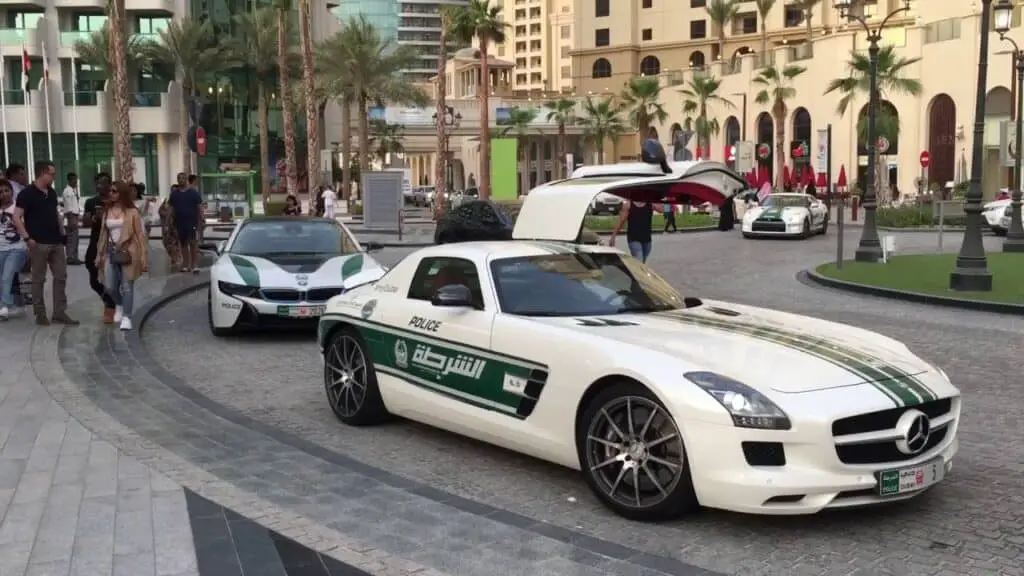 Talking about power, the SLS AMG boasts a 6.3-litre V8 engine that can go from 0 to 100 kmph in a mere 3.6 seconds, producing 539 hp in the process. And let's not forget how majestic it looks in Dubai's fleet colors.
Audi R8 V10
The R8 is one of the most recognized supercars in the world, and is even the most sought after vehicle in the world (Remember the iconic car in Ironman 1?). The vehicle takes its V10 engine from the Lamborghini Gallardo, but makes better use of it.
It brings out a full 525 horsepower that can easily produce a 0 to 100 kmph in less than 4 seconds. The Dubai police were in love with this car so much that they bought two of them and gave each its own colour scheme.
Brabus G700
We keep including the Benz in this list because it is just such a good company. The Brabus G700 is an exceptional ieice of machinery. And while it was a replacement to the G63 AMG, it still is a great addition to the police force's mighty fleet. Retailers had their first vehicle in the UAE almost 40 years ago when they first debuted the G-Class.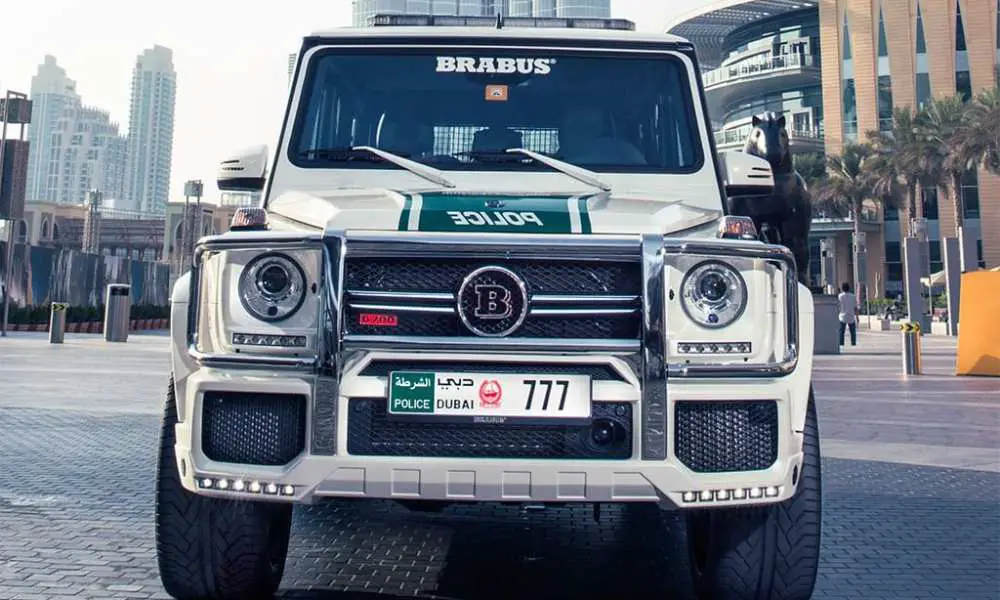 Around half a decade ago the police fleet took in the 690 horsepower super-truck which cost 2.3 mil USD. This car can beat any other car when it comes to off-roading, and with this addition, you know you can even run to the desert and Dubai's police will catch you in no time.
Latest posts by Siddharth Sharma
(see all)