3.45 crore for the latest Lamborghini Huracan RWD Spyder
It seems just yesterday when the Indian market witnessed the launch of the Huracan Avio. It was September and here we are with the company announcing the launch of the final variant of Huracan, the RWD Spyder. The new Lamborghini Huracan RWD Spyder costs Rs 3.45 crore, ex-showroom. With its launch, there will be five variants of the Huracan in the Indian market to choose from. Of all the variants, Spyder was the only one unavailable in India. Globally, the Huracan can be found as Avio, Coupe, RWD Coupe, Spyder and RWD Spyder.
While it takes 3.2 seconds for an all wheel car to reach 100 kmph, this one takes 3.6 seconds for the same, given the rear wheel drive layout. Similarly, it takes half a second over the 9.9 seconds taken by an all wheel drive car to reach 200 kmph. Further, the highest mark that it reaches is 319 kmph as compared to the all-wheel-drive variants that can make it to the 325 kmph tag.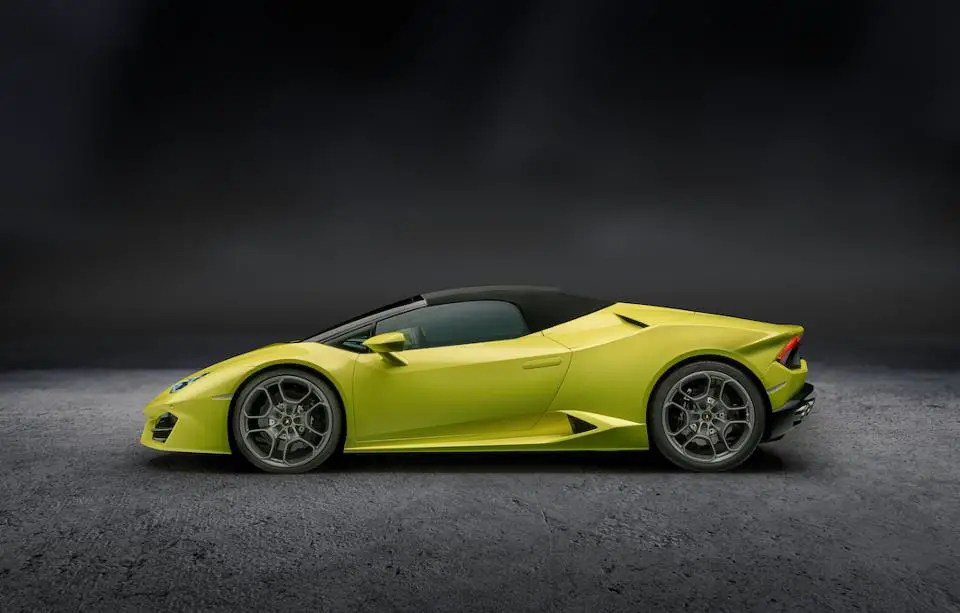 Strada, Corsa and Sport are the three driving modes that the car features. For day to day driving, the Strada variant is the most advisable as it acts like an electronic guardian and keeps a check on you, meddling to increase the grip and comfort. The Sport variant is the aptest to have the fun you have been waiting for and enjoy the ride to the fullest. If you are the kind who loves to take out the car on a race track or feel like it, then the Corsa mode is what you should go for.
As for the power units, 580PS is the maximum power it is capable of producing, at 8000 rpm along with 540 Nm of torque. Relative to its all-wheel-drive cousins, this on makes 30 horses less and 20 Nm less torque. The tyre width with 245 section rubber on the front and 305 section on the rear, along with the seven-speed dual clutch transmission is the same as others. The latest baby Lambo has 19-inch rims as opposed to the 20-inch alloys. To help you deal better with the public roads, it wears a taller sidewall.
The Spyder's soft top is known to be heat and sound insulated, and it is possible to open or close it with a switch of a button up to the speed of 50 kmph. With the 12.3 inch instrument console and the fighter jet cockpit resembling controls, you will definitely get the sweet taste of flying.
Latest posts by Sukriti Leekha
(see all)