9 Electric Trucks you Should Watchout for in 2021
By now, almost everyone can agree that Electric vehicles are the future of the automotive industry. The case is even stronger for pickup trucks. There have been so many recent EV launches, even from the likes of Audi and Porsche, and this just forces competitors to shift towards making an eclectic vehicle of their own, just to stay in the competition.
Innovators like Ford and GMC are making waves in the market, introducing electric variants of their popular trucks. And with Tesa's latest Cybertruck hyping up the anticipation even more. Checkout: Best-Selling Trucks in USA Presently.
We can't wait to see how the future of pickup trucks is going to turn out. But so far, there have been quite a number of electric pickup truck announcements that have gotten fans crazy. Let's take a look at these new electric powerhouses in the market:
1) GMC Hummer EV
GMC is making a resurrection of sorts with its Hummer electric vehicle. The Hummer was discontinued in 2010, much to the dismay of fans, but it's officially coming back, and off-road truckers couldn't be happier. The most recent announcement from GMC was on October 20, when they introduced the reincarnated Hummer to the world, with a price tag that would put any motor enthusiasts go nuts – a whopping 112,000 USD – but hey, it's a Hummer. They're supposed to boast that price tag, especially with GMC's rumored tri-motor system that's supposedly going to churn out a beastly amount of power.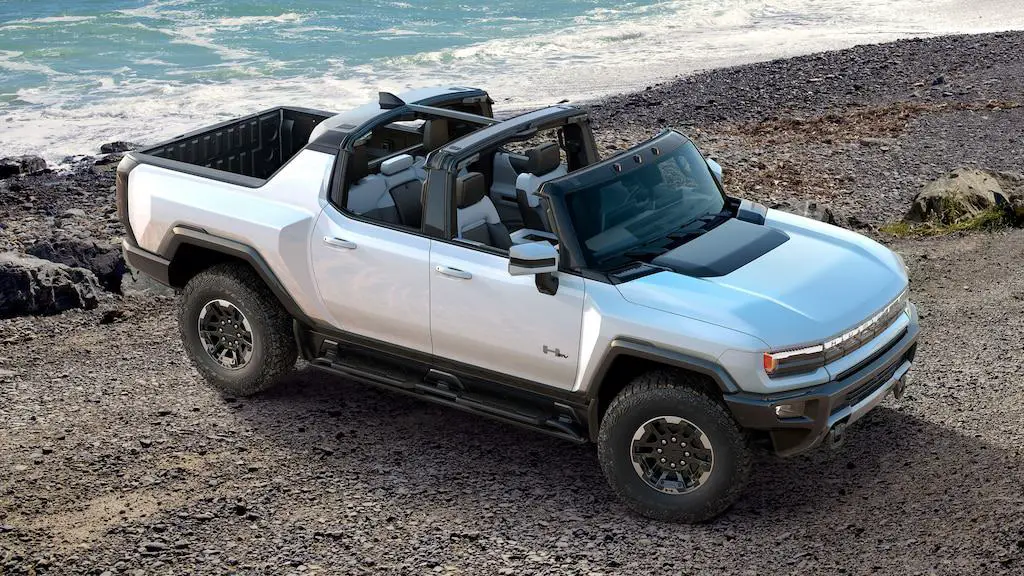 Don't let your hopes down just yet, however. GMC also announced that a more "affordable" range of trucks will come out in 2023, with a two-motor system. It is said to be affordable because it will only cost a little south of $90,000. There's also another version of Hummer EV coming out in 2024, in case you think their "affordable" tag was a bit misleading. This one will cost $79,995, and in our opinion, is truly affordable.
Overall, the Hummer EV is great on paper, with a mileage of 350 miles per charge, a godly thousand horsepower that can switch from 0 to 60 mph in 3 seconds, and a really clean design. How it performs on the road is something we'll have to wait a bit longer to see.
2) Tesla Cybertruck
The Cybertruck is the class clown when it comes to looks,but boy if you were to judge it for that, you'd be in for one heck of a surprise when you take it for a ride. The "other-wordly" looking vehicle is the reason electric pickup trucks are even a rage right now. Elon Musk turned the whole world's eyes towards electric vehicles with his Tesla Roadster and he aims to do the same with the Cybertruck.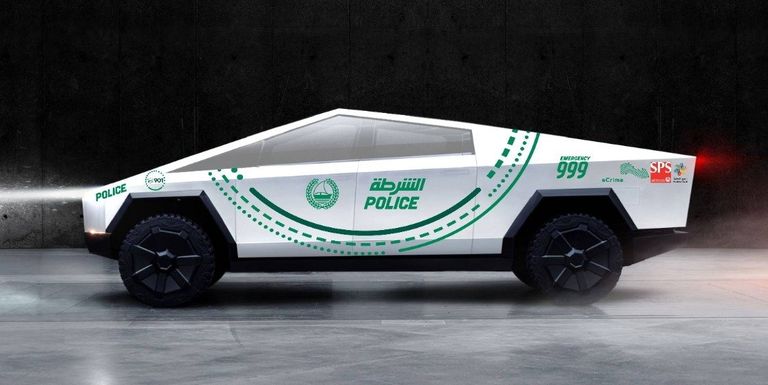 Although it made the headlines more as a trending meme template than a car announcement, Elon's Cybertruck had people's attention, and that was all it needed. The car got a ridiculous amount of bookings the very next day, and it's well on its way to being delivered in 2021. While you might think America might have done it for the memes, getting a futuristic electric truck at 39900 USD doesn't seem like a bad deal.
Note: The Cybertruck comes in three variants – the most powerful one equipping a tri-motor for an all wheel drive, while the most basic one has a single rear-wheel-drive motor. The tri-motor models come at 69,900 USD. There is also a mid-sized variant but it's clear that the top-end model will be the showstopper next year. Even Dubai Police added it to its fleet.
The most powerful Cybertruck works up a good 500 miles per charge, running from 0 to 60 mph in 2.9 seconds! With a 14000-pound towing capacity, you know this is going to steal the show. The dual-motor cybertruck varant also does 300 miles per charge, and has a 10,000lbs. towing capacity, while the single motor averages 250 miles per charge and is capable of pulling a 7500lbs load with relative ease.
3) Ford F150 EV
Everyone loves the F150. It's been reused and recycled by Ford so many times over the years that you can even go ahead and call it a family favourite. It even ended up on our Top selling Pickup Trucks in the USA list. While they haven't officially named this vehicle, Ford is determined to also enter the EV pickup space as of now. Currently, the truck is almost identical to the Ford F150, hence the name, but you can bet a million dollars that it'll be quieter and more comfortable than its gas-hungry predecessor.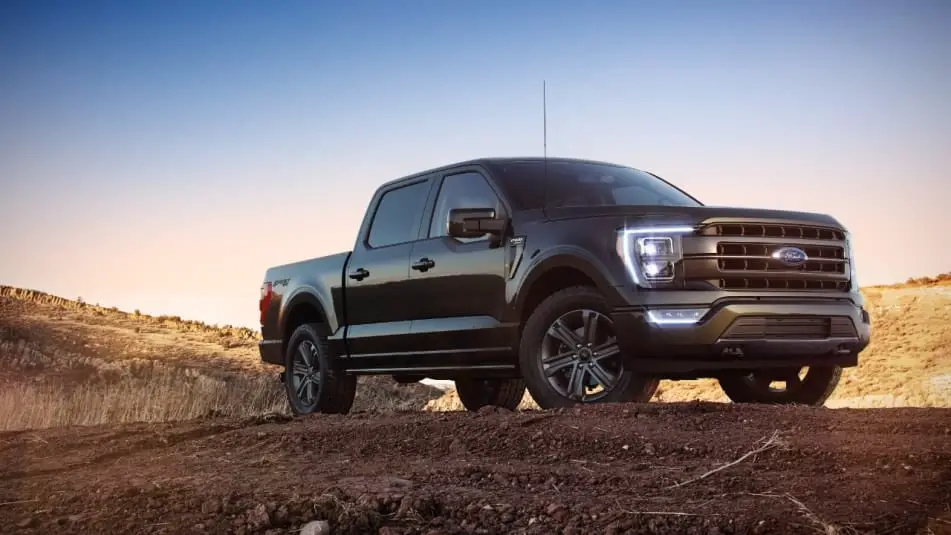 The company has planned to invest 700 million USD into a new production facility for these pickup trucks, so you know something big's coming.
So far, Ford hasn't specified a lot of details on the F150, except for it's sneak peek at how the vehicle looks. We might get to know more as we head into 2021, but for now, it's possibly going to compete with the Cybertruck for your attention.
4) Rivian R1T
Rivian is the underdog in this list, but it sure doesn't look like it. With heavy investments coming in from Amazon and Ford, the company is apparently trusted by some pretty big voices in the country. That is why the introduction of the R1T has created so much noise in the industry. Learn all about Rivian R1T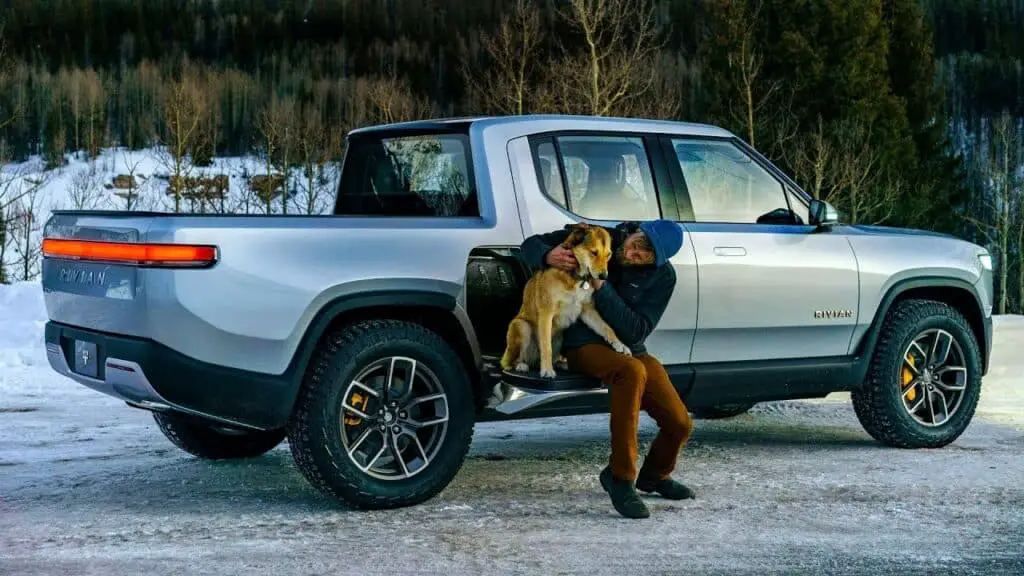 In terms of its size, the R1T is very much similar to a Honda Ridgeline, and can go through 3.3 feet of water, primarily why it's best for offroading. Range wise, it will provide you with 400 miles on a single charge, at least on paper, owing to its 180-kilowatt hour battery pack. There are two other battery pack options – a 135 kWh and a 105 kWh battery pack – and both of them provide a decent 300 miles per charge and 230 miles per charge respectively.
With the biggest battery pack – which is the talk of the town – the machine will give you a good 700 horsepower. What Rivian is trying to do with its R1T is creating a balance between a regular EV pickup truck and a vehicle that anyone can use as a daily drive. Only time will tell if it can hold up to its name.
5) Bollinger B2
Bollinger attempts to bring back boxy vehicles with its B2 EV. The Michigan based company is all set to roll into the EV Pickup segment, and the B2 seems like it can pack quite a punch. But for an asking price of 125,000 USD, could it be biting much more than it can chew?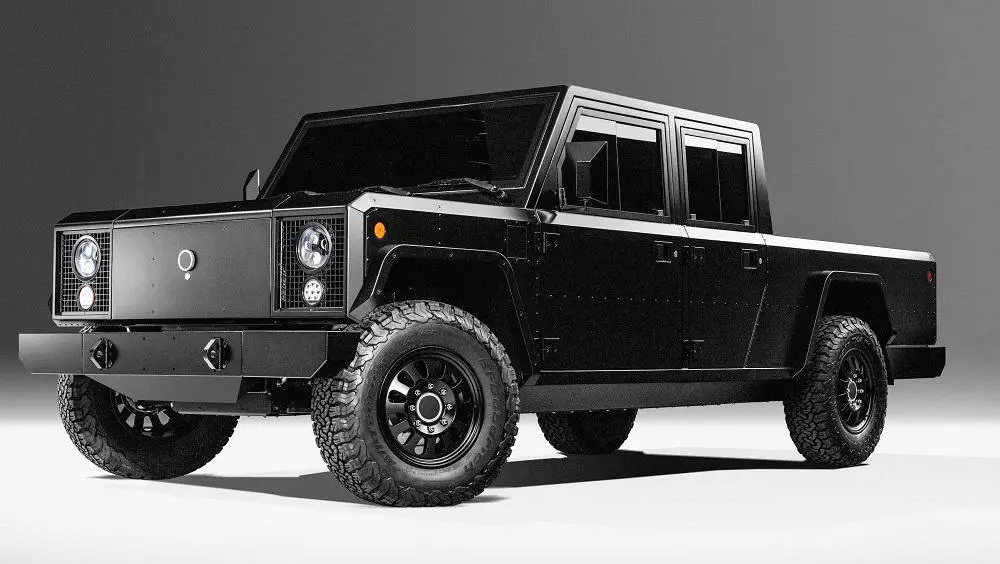 Announced way back in 2017, Bollinger initially released the B2 with 60 kWh and 100 kWh batteries but later changed it to 120 kWh and 180 kWh batteries for the chassis cab version. The first version of the pickup truck gave customers a low 120 miles per charge. But the new one offers 200-miles per charge so that's a massive boost in terms of selling point.
The B2 also comes with 614 horsepower and 668 lb-ft torque, with a towing capacity of 7500 pounds, although the beta they exhibited had only a 5000-pound towing capacity. We'll have to let the average American user be the judge of what Bollinger's machine can and cannot do.
6) Nikola Badger
The Badger is one of the most popular trucks in this list. Nikola didn't just incorporate an electric motor into its vehicles, but it also made use of hydrogen fuel-cells to power its motors. This isn't something many manufacturers are willing to risk, but Nikola did it, and it did it well.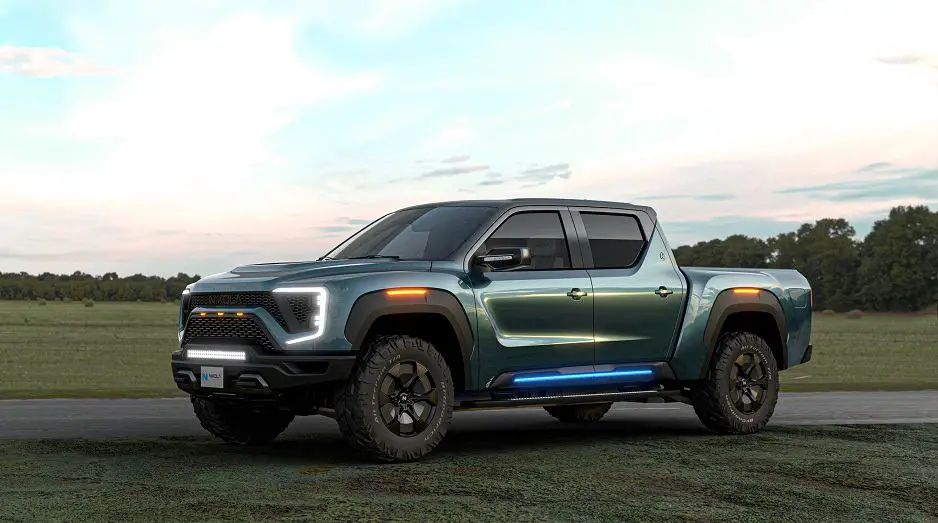 The Badger has a "decent" horsepower of 906 HP with 980 lb-ft torque muscle. It can also run for about 600 miles before needing a quick refill. But here's where it gets interesting. 300 Mile range comes from charged battery and additional 300 miles comes from fuel cell. You don't need to stop anywhere for refilling as soon as the 300 mile count is reached, because the battery gives you an additional 300 miles per charge.
Really solid vehicle on paper, if you ask us, and although some fraud allegations have been running around, the company will be getting back to production at full speed, and we expect to see more Nikolas on the road soon.
7) Atlis XT
Anyone who's been reading the news knows how eager people are to hear from Atlis. The company has announced its foray into the electric pickup truck segment, and that means we could be getting the Atlis XT anytime soon now.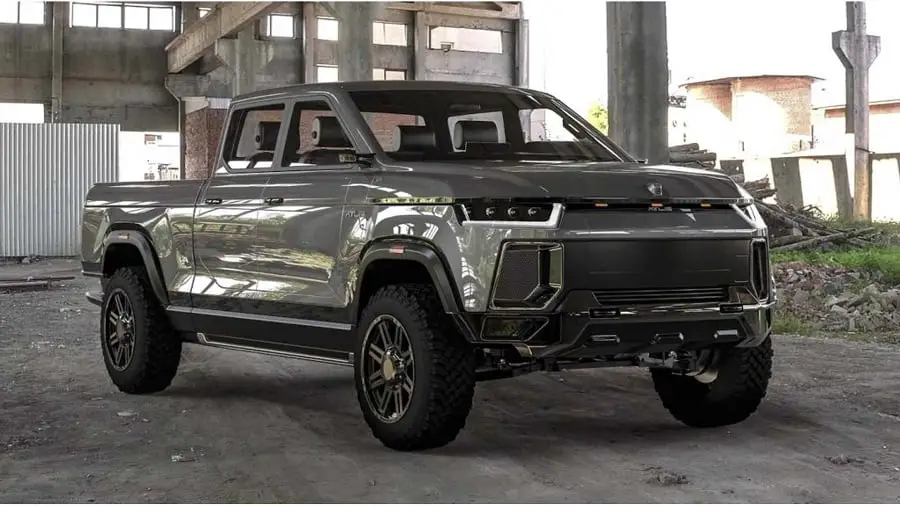 The XT is surely one of the most awaited vehicles in America right now, and its spec sheet does justice to the hype. It can tow up to 35000 pounds and has an air suspension that easily gives you up to 12 inches of ground clearance. The company is also planning to bring in a fifth wheel for towing jobs.
One of the XT's batteries supplies around 125 kWh and the price is to be said around $45,000 which might seem ambitious but is actually a pretty decent rate. The company is also providing insurance, maintenance, and even charging, all covered with a $700 per month subscription. That is a steal considering how much maintenance can cost for an EV, with not much information running around for you to repair one yourself. Easily one of the most anticipated vehicles for the later part of 2021.
8) Fisker Alaska
In February of 2020, Fisker made a shocking revelation – it's very own electric pickup. CEO Henrik Fisker "accidentally" posted a picture of the rear end of the company's supposedly latest vehicle, and an EV pickup truck at that.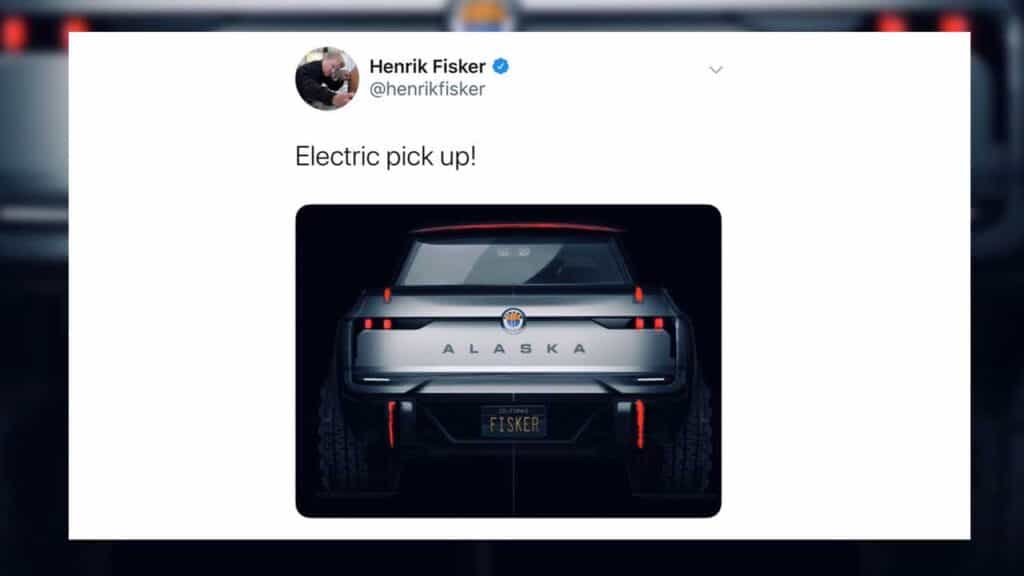 He deleted the photo moments later, but motorists were quick enough to grab screenshots and since then, rumors have been on the rounds about what, how, and when this product will be unveiled.
Details are yet to be confirmed, but all we can say for now is that Fisker's Alaska might well be the best pickup truck of 2022, if not 2021, and that is something every enthusiast should keep an eye out for.
9) Lordstown Endurance
Lordstown is an Ohio based startup that's attacking the EV Truck market. The company unveiled it's Truck named Endurance in June 2020.
The company is serious about the business as they purchased GM's abondonded plant in Ohio. Now the company is planning to get listed on NASDAQ stock exchange to raise more funding.
Learn about 4 different kind of batteries for EV
Latest posts by Siddharth Sharma
(see all)