Legacy of Yamaha RX 100; Is it Coming Back?
Yamaha RX100 is one of the few motorcycles in India that created so many motorcycling enthusiasts. Anyone who grew up in the late 80 and 90s know that RX100 was the coolest motorcycle to buy in those time, apart from the mighty Yamaha RD 350.
Yamaha RX100 was a lightweight and simple motorcycle with a 98cc two-stroke engine. It ruled the Indian street between 1985 to 1996 and made a lot of money for Escorts Limited. During its 11-year production run in India, nothing changed apart from paint scheme and improved 12-volt charging system.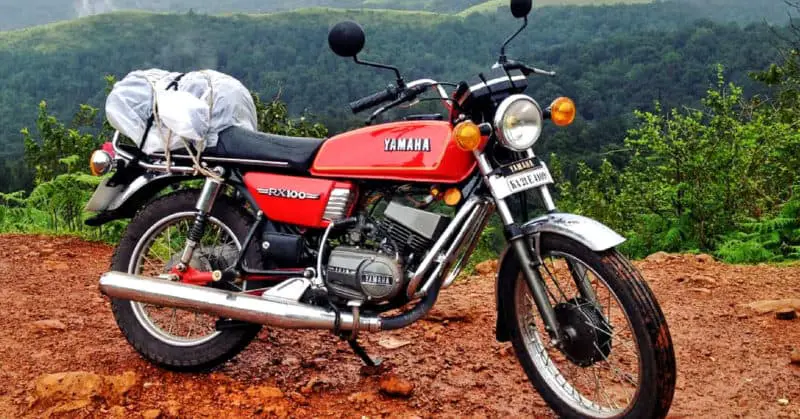 Escort Limited got into partnership with Yamaha in 1983 to launch the "Rajdoot 350", Yamaha RD350 name in the Indian market. It's competition, TVS Motors at the same time decided to collaborate with Suzuki to bring the AX100, a 100cc two-stroke motorcycle.
Being cheaper and much affordable to run, the sales of AX100 were impressive. Escort saw the opportunity in that market and decided to bring the Yamaha RX100 in 1985. The first iteration of Yamaha RX100 were CKD imports that was just assembled here. It was offered in three colors: Cherry Red, Peacock blue-green and Silver.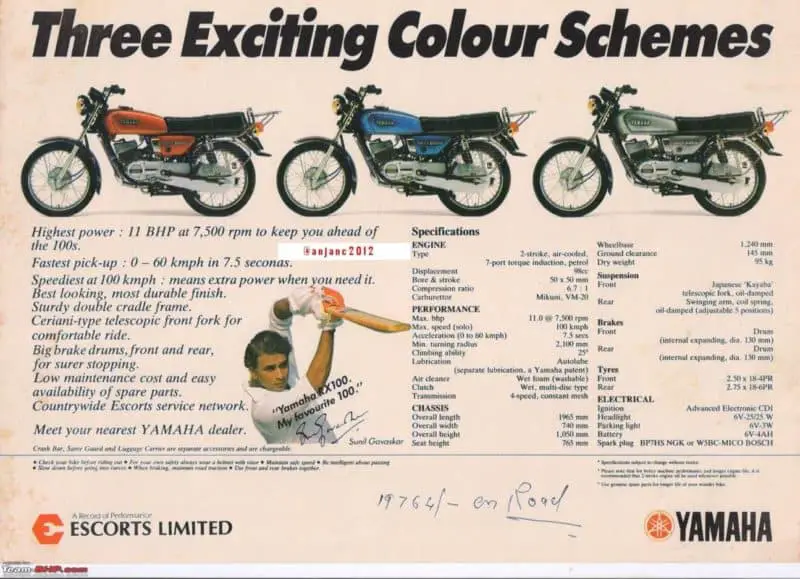 One way to identify the early CKD model to look for "Made in Japan" lettering on the gearbox casing. The speedometer had "Rajdoot" branding and they were manufactured by Yenkay.
In the later staged when the production shifted to India, the speedometer had Yamaha or Escorts branding and these meters were made by Pricol. And off-course the "Made in Japan" embossing on the gearbox casing was removed.
Everything remained unchanged throughout the 11-year production run, apart from upgraded 12 volt charging system from the 6-volt system.
Technical Specifications
Engine: 2-stroke, air cooled, single cylinder petrol.
Displacement: 98cc
Gearbox: 4-speed constant mesh
Induction: Reed Valve
Ignition: Capacitor Discharge Ignition
Clutch: Multiplate (4 nos) wet.
Output: 11PS @7500 rpm
Chassis: Double cradle frame
Wheels: Wire spoked, 2.50″ X 18″ front tyre, 3.00″ X 18″ rear tyre.
Acceleration 0-60km/h in 7 seconds (Source: Workshop Manual)
Top speed 100km/h (Source: Workshop Manual)
Legacy of Yamaha RX100
The Yamaha RX100 offered something for everyone. It could be the daily commuter for someone looking for a reliable, cheap to run motorcycles. Or it could bring out the racer boy in every college going young man. It was surely the style statement back in those days. In fact, the legend of RX100 is so strong that even today you'll turns heads on the road.
After discontinuing the RX100, Yamaha launched its replacement in the form of RXG, a 132cc two-stroke motorcycle. Soon after the launch, the company recalled the motorcycle due to ignition system issue that was replaced free of cost.
Soon after the Yamaha RX135 was launched in 2000, which was essentially a rebranded RXG. Inspite of having stronger engine, it received lukewarm market response. Mainly due to increasing competition in the segment and carrying over same design for more than a decade. Enthusiasts were also disappointed with RX135 because it lost the lovely two-stoke sound of RX100 due to muffled exhaust note that wasn't crisp.
Yamaha RX100 Advertising Campaigns
The marketing team of Yamaha was on point when it introduced the Yamaha RX100 in Indian market. The advertising campaigns played an important role in making RX100 a legendary motorcycle. It's slogans like "Ahead of the 100s" and "Born to Lead" gave this thrilling aura to a simple two-stroker.
Let's look at some of the advertised posters of RX100 that still invokes strong emotions:
Image source: Team-BHP.com
Is Yamaha Relaunching Yamaha RX100?
There have been rumours that Yamaha is planning to relaunch the RX100 in India. Yes, we really want to see RX100 coming back in a newer avatar. But, it having a peppy 2-stroke motor is highly unlikely. We say this because the 2-stroke motorcycles have become obsolete in this day and age due to strict emission norms.
Read top 45 motorcycling quotes
Imagine, today even regular combustion engines are facing the wrath of tight emission regulations. No manufacturer can think about bringing a 2-stroke production engine that leaves a cloud of oil smoke from its exhaust.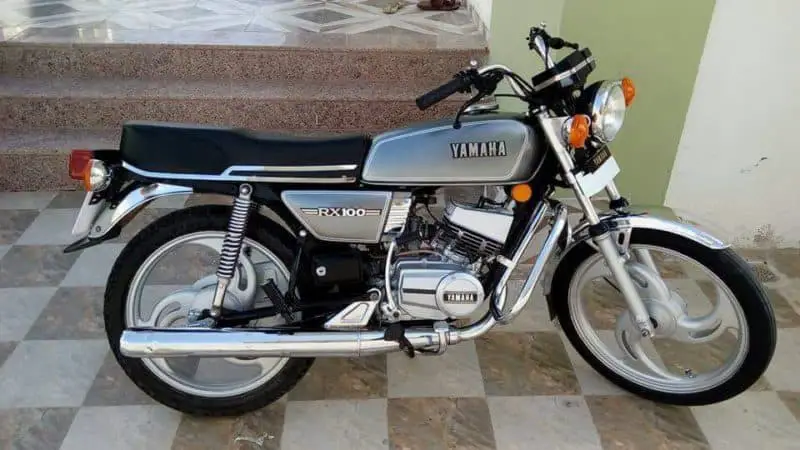 Yamaha might resurrect the Yamaha RX100 name by putting it on a new four-stroke motorcycle. The character of the original RX100 can be tried to be replicated but it's not possible to get the same feeling from a four-stroke engine.
The enthusiasts today are spoilt for choice when it comes to fun to ride motorcycles. At the starter level, one can go for bikes like TVS Apache 160, Bajaj Pulsar range, Bajaj Dominar, KTM Duke 200 Suzuki Gixxer. The next step is the likes of KTM Duke 390, Yamaha FZ25, KTM RC390, Yamaha R3, Ninja 400.
I think Yamaha understands that competition tough today. And it wouldn't be wise to launch a 100cc motorcycle and pitch it as the new RX100.
You can still buy used Yamaha RX100
Well, the good news is that you can still buy a used Yamaha RX100 in India. That said the prices of a well-maintained RX100 have shot up drastically. Some good examples are selling for as much as Rs 1 lakh.
The important thing to note while buying a used Yamaha RX100 is the health of the engine. Most of the bike you'll look at will have their 2-stroke engines rebored as the cylinder walls wear off with use. This results in compression loss (reduced power and efficiency).
The term engine reboring means that the diameter of the engine cylinder is increased to accommodate a slightly bigger piston so that it fits snug. This brings back the compression and makes the engine perform like new.
Unfortunately, the reboring can only be done a couple of times as the sleeve gets worn out completely. Sleeve thickness is between 0.5 – 2mm. When the sleeve is worn out, resleeving it required. Experts often warn against going for resleeved RX100 engine as it does not perform as the original engine.
The initial lot of bike from 1985 to 1987 were Japanese manufacturer motorcycles, therefore they command a higher premium in the used market. You'll be lucky if you find an unsleeved Made in Japan Yamaha RX100. These Made in Japan RX100 had a Y1 Cylinder block. Checkout: Top 9 Motorcycle youtube channels
The made in India Yamaha RX100 had G1, G2, G3, and G4 cylinder block. The G1 cylinder block is said to be equivalent to Y1 block in terms of quality.
The most important thing to note while buying a used Yamaha RX100 is that the rebore size should be less than or equal to 0.5 mm. Ultimately, the cost factor also needs to be taken into account.
Download Yamaha RX100 Part Catalog by clicking the button below

Latest posts by Siddharth Sharma
(see all)