Fortuner Vs Endeavour: What Should You Buy
Unlike small cars and mid-size sedans, big, bulky SUVs don't get revamped so often. So, you can rest assured that nothing new is coming for a long time once they get a thorough update. Bye-bye, buyer's remorse. The Ford Endeavour and the Toyota Fortuner got updates this year making 2016 the year for SUV-lovers. Two of the most prominent names in the business have now come with fresh looks, more gadgets and more power.
Also Read: All-new Fortuner Launched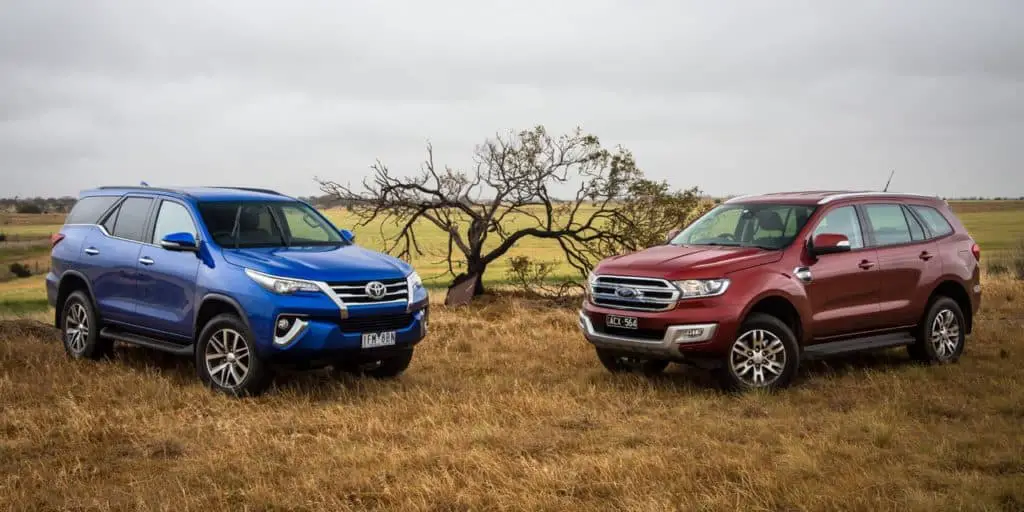 The Ford Endeavour launched in February. It's November and the next-gen Toyota Fortuner is already here to defend its crown. It's not like Toyota needed to try very hard but they did it anyway. Despite being at the end of its lifecycle, the Fortuner was able to safely hold its turf while going against the brand new Endeavour. The Fortuner outsold the Endy by nearly 2:1 even during February and March. It's only when Ford produced 700units/month consecutively in July and August that they were able to beat the leader. Overstocking the inventory did come at a price, though. In September, the American giant gave the Endy a price correction to clear the stock.
Also Read: Rs 2.82 lakh Price cut on Endeavour
So let's take a look at how the two biggies stack up on paper and deliver the answer to the two burning questions:
What should you buy?
Why should you buy it?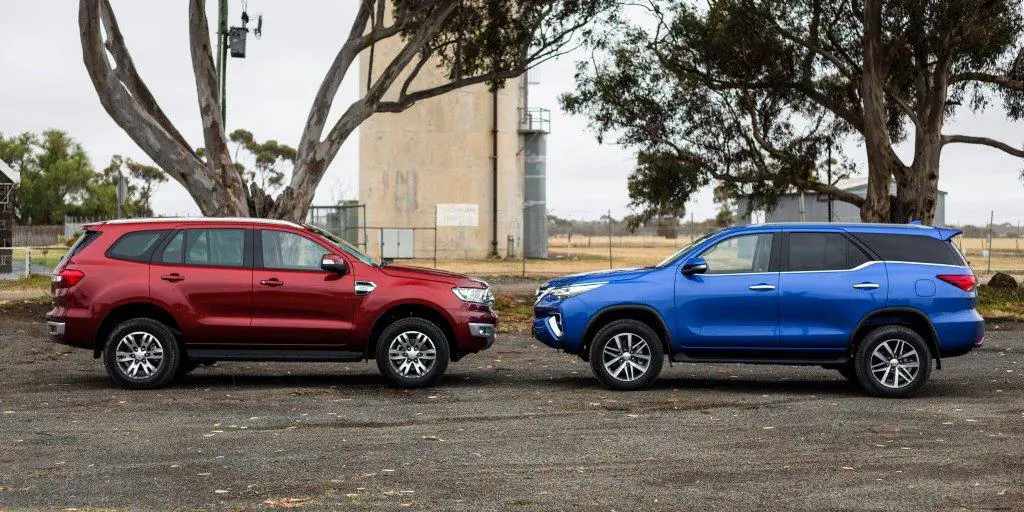 General Comparison
First, let's get the general specifications out of the way.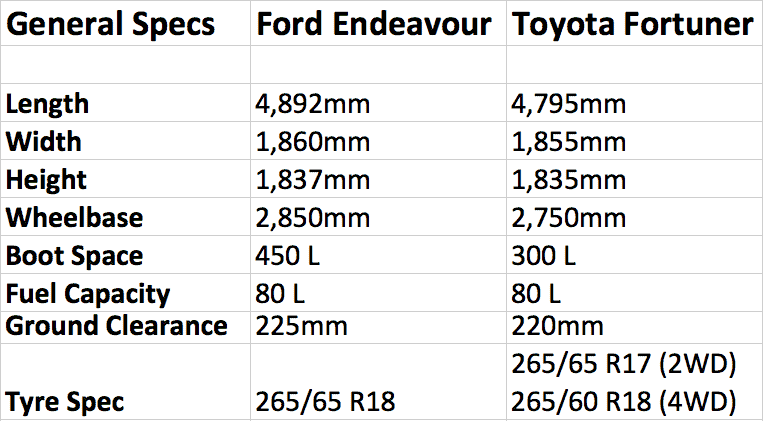 There's no point even highlighting which one's better. In every single aspect, the Endeavour trumps the Fortuner. Even if it means beating the Fortuner in something as irrelevant as height by as little as 2mm. It's only in the fuel tank capacity that the two big boys are evenly matched.
Winner: Endeavour
Mechanical Comparison
Now, it's time to dig into the meat and potatoes, a.k.a., the powertrains and the drivetrains.

*The above sheet only compares the diesel engines of the two rivals because the Endeavour is not available with a petrol engine. All prices are ex-showroom, Delhi.
As it's evident from the table, the Endeavour, with its more powerful 3.2-litre engine, easily beats the Fortuner by offering more power and more torque. The peak power is also attained considerably lower in the rev range so you don't have to bear with loud engine noise when going full throttle. All that is available at a lower price as well.
The Endeavour does lack with its 2.2-litre engine but on that front, it makes up with a considerably lower price tag. The numbers are still respectable; they're just not ground-breaking.
If you feel lured by the option of keeping your SUV around for a longer time (15 years for petrol vs 10 years for diesel), then Fortuner is your only option. Here are the numbers just for you.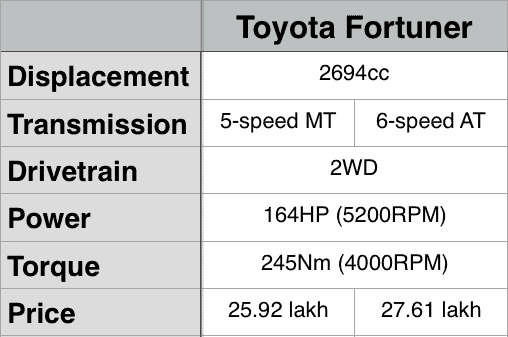 Winner: Endeavour
Feature Comparison
When it comes to features, the two are pretty evenly matched. They both have something that the other doesn't.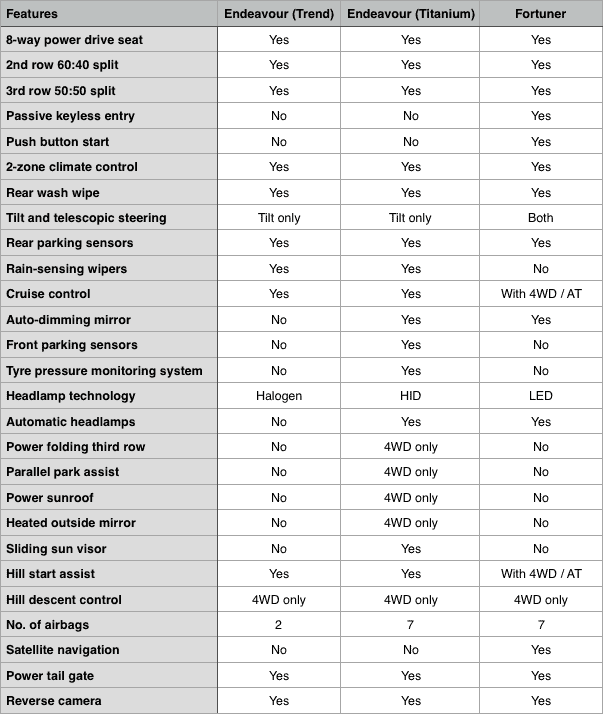 Not having multiple trims of Fortuner works in its favour and helps simplify the lineup.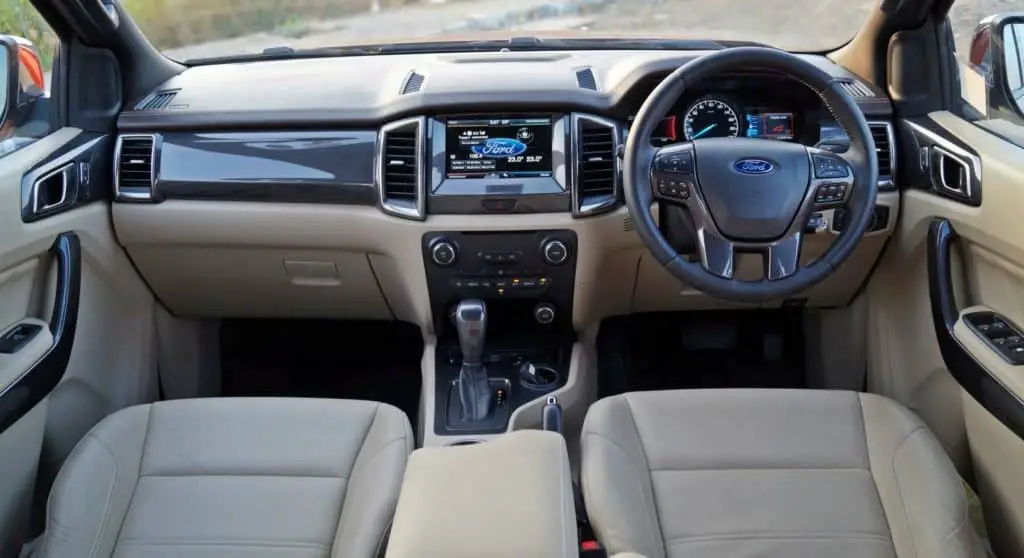 Noteworthy features of the Endeavour that are missing on the Fortuner:
Power folding third-row seats
Parallel park assist
Heated outside mirrors
Power-operated sunroof
Sliding sun visor
Rain-sensing wipers
Front parking sensors
Tyre pressure monitoring system (TPMS)
10-speaker sound system (Fortuner gets a 6-speaker system)
Cruise control (Not available on 2WD manual transmission variants of Fortuner)
Hill-start assist (Not available on 2WD manual transmission variants of Fortuner)
Features available with the Fortuner that are missing on the Endeavour:
Keyless entry
Push button start
Steering adjustable for reach
Sattelite navigation
LED headlamps
7 airbags as standard (Endeavour's Trend variants only get 2 airbags)
The Ford here lacks a few features but at ~Rs. 30 lakh, buyers expect some luxurious and fancy tech features like semi-automatic parallel parking, TPMS, sunroof, etc, which are missing on the Toyota. Lack of push-button start, telescopic steering, navigation and LED headlamps do take away some points from the Endy making it a close call.
Winner: Endeavour
Buy The Endeavour IF
If you need an SUV that's loaded with features and plan to get rid of it once it loses most of its value, the Endeavour is for you. Ford's alternative is a very competent product and one that can go toe to toe with the segment leader and beat it on its own turf. It costs less upfront for lower variants while upper trims will allow you to splurge on features that were unheard of in this category. 
You can find a five-to-six-year-old Endeavour under Rs. 10 lakh. Maybe a couple lakhs over if it's in impeccable condition. The trend suggests that the Ford SUV's residual value drops considerably in comparison. So, if you plan to sell the vehicle early then keep this in mind. Those who run a business can also enjoy depreciation benefits with the Endy.
Buy The Fortuner IF
If you're planning to hold on to your SUV for a very long time and want a smooth ownership experience, spend that extra money and get the Fortuner. The higher residual values will also allow you to get maximum returns when it's time to upgrade.
Also Read: Why ISIS loves Toyota..?
The Fortuner has a track record of holding on to its value. A 2010-2011 Fortuner with just as many grey hairs as the Endy costs about Rs. 2-5 lakh more. That's no surprise as the Toyota badge does command a premium in the used car market. The Japanese company hasn't reached here overnight and the dealers have worked for decades to give a consistent experience to their customers.
Latest posts by Guest Author
(see all)